Cocoa Dev Central Redesign
The time has come for a
Cocoa Dev Central
redesign. It's a very "back-to-basics" look. In other words, it's all about easy access to content. I originally set out to do something a bit more radical, but this is what we have for now. The next one around will probably look at lot different.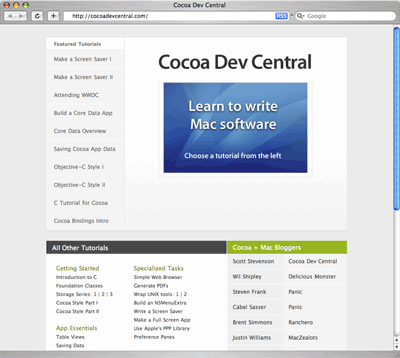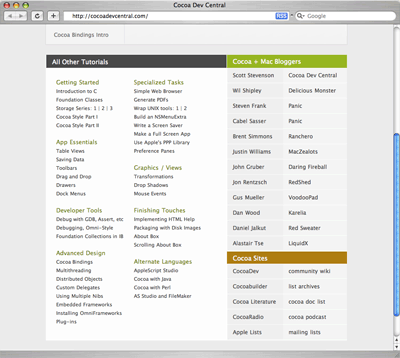 First off, there are some obvious rough edges that I'm still smoothing over. For example, there's no feedback link on the home page, nor a direct link to the feed. These will probably be fixed sometime today.
I decided to go with a rollover-centric design to stuff a bunch of information in a relatively small amount of space. Not all of the article rollover graphics look how I want just yet, they're just placeholders.
At this time, only the home page has been revamped. I'll probably going in and tweak the article styles a bit as well, but they received a bit of a tune-up not too long ago. The very old articles will get an update, though.
Brian Christensen's two-part series on
writing screen savers
is now listed at the top of the page. I mentioned these tutorials earlier on Theocacao, but this is the first time they've been on the Cocoa Dev Central home page.
The home page now also features some Cocoa and Mac bloggers. I'm not sure if this is the final list of who will be here. I might add some, and I might remove some.
If you have any nominations, let me know. They don't necessarily have to be Cocoa jockeys, but they should focus on software in some way. Also, they do
not
have to work for Delicious or Panic or something. Little guys with big content are fine. Obviously, not all nominations will make it in.
I realize some people might find it just stupid that I list Theocacao first in the blog list. I actually considered listing it down at position five or so, but that looked even more bizarre. My final feeling was that site has no ads and takes a lot of time to keeping running, so having one link to the blog is a minor concession. :)