Cocoa Dev Central Redesign
There's a new
Cocoa Dev Central
design up. Here's a quick rundown of what the design goals were, how the content is different. First, a screenshot: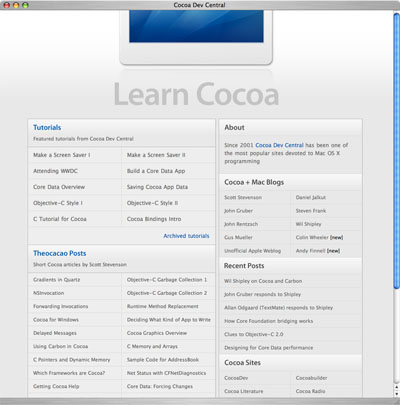 The goal was for the design to have high production values, yet be simple and clear. I didn't set out to do white metal, but I guess that's what we have. This also forced me to go back and find all of the Cocoa content on Theocacao. Turns out there's quite a lot.
Everything validates and markup is very clean (151 lines), which is interesting if you're into that sort of thing. As usual, I designed in Safari and tested in Camino, which uses the Firefox's Gecko engine. No changes were necessary for Gecko. If you're using WinIE to view the site, I wish you the best of luck.
There are some new additions to the Cocoa blogs section.
Colin Wheeler
has a blog he calls Cocoa Samurai, and already has a bunch of tutorials.
Andy Finnel
used to work for Macromedia and has been doing a lot of writing, often on Core Data. The Recent Posts section lists a cross-section of relevant Cocoa posts from different places.
One design decision that might seem a bit odd is that the words "Learn Cocoa" are plastered in large block letters across the top instead of the site name. I think if somebody ends up at the site they already know what it's called, and it's just simpler to say what you're doing here. If you think this is crazy talk, check out Apple's site. Interesting, no?