Second Part of Cocoa Graphics Tutorial
The brand new
Cocoa Graphics with Quartz II
tutorial is now up. The
previous tutorial
introduced basic concepts like points and rects. The second one explains how to create a custom view, construct paths, and use images. Both are designed to be accessible to everyone, even those who haven't done graphics programming before.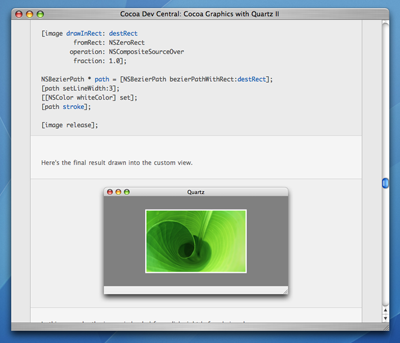 Somebody emailed me about the first tutorial and noted that they really liked it, but it there was nothing in there about Quartz. Technically, that's correct. None of the code uses the Core Graphics data structures and functions. This is really a tutorial about Cocoa graphics using the AppKit classes. However, people don't necessary know that when they start looking for tutorials.
The boundaries of Quartz aren't clearly defined, anyway. On paper, Quartz is the procedural Core Graphics API plus the Window Server. You could also make the point that Quartz Core (Core Image, Core Video) is part of the "real" Quartz, but that's just splitting hairs.
The AppKit classes use Quartz in any case, so I have no problem referring to NSBezierPath, NSImage, and so on as Quartz classes. The point is to get the Quartz
concepts
across.
A side effect of writing this tutorial is that I found out the elipses embedded in each side of the Taijitu are equal to one quarter of the total diameter, divided by the golden ratio. Suprising on one hand, but then I realize it makes perfect sense.
Bonus points if anyone recognizes either of the two locations in the landscape photos in the "Images" section. One is very close to where I live.