Embedded Script Error Dialog in Flash
This is interesting. I was loading Engadget and Safari suddenly stopped responding to events. Just when I was about ready to force quit I saw this dialog.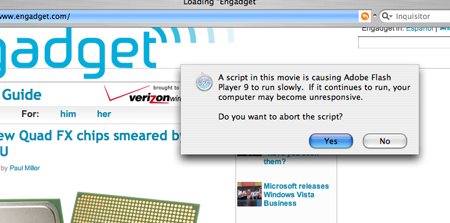 First of all, kudos to Macro-Adobe for giving me the option to bail out of the script instead of just letting things run wild. However, does anyone know exactly what's going on here? The dialog reads:
A script in this movie is causing Adobe Flash Player 9 to run slowly. If it continues to run, your computer may become unresponsive.

Do you want to abort the script?
What exactly does it mean by "movie?" Is it embedded video in the Flash file? Is the script ActionScript? I've never seen this before so I'm a bit puzzled.