New Site: Cocoa Blogs
I'm very happy to announce
Cocoa Blogs
, a brand new site designed to track the goings-on in the Cocoa developer community. This is an expansion of the blog listings on the Cocoa Dev Central home page.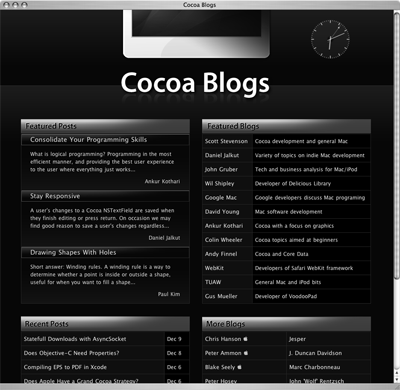 The site tackles Cocoa community content from two angles. Featured and Recent Posts highlight current topics of discussion and new (or newly-discovered) tutorials. Featured Blogs focuses on authors with a consistent level of Cocoa and Mac-related content.
I developed for Safari and tested with Camino. The design is a combination of Leopard, MacBook Pro and Bruce Wayne's office.
Donations to
Cocoa Dev Central
go into a communal fund for the Cocoa projects I work on. In other words, if you
donate
to Cocoa Dev Central, it directly supports this site. Thanks to all of those that have already done so. Your help made this site possible.
Enjoy, and tell your friends.