Cocoa and Mac Folks on Guitar
Gus Mueller found a USB adaptor for
his guitar
, recorded a sample of the results, and posted it. Guess what? He knows his stuff. Here's what I propose: all you Cocoa and Mac bloggers out there should post a recording of yourself playing guitar (or some other instrument). Here's mine.
It sounds like Gus has an acoustic/electric. I have a Martin without any sort of pickup, so there's no way to plug it directly in. At first, I decided to go the electric route and plug the Strat instead. I used a griffin
iMic
, which Gus alludes to in his post. Here's the result of that:
Electric Sample
in GarageBand (2:09 / 2.02MB)
I spend a lot more time on acoustic, which you can probably hear in the above sample. Thinking that, I thought I might as well give the iMac's built-in mic a try. It wouldn't be suprising if it picked up too much background and internal computer noise to be useful, but I already had something to post so I wasn't losing anything.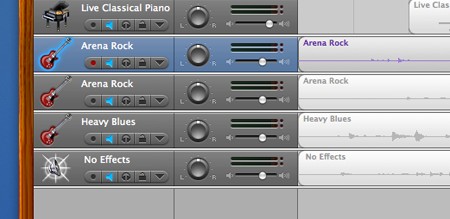 It turns out the built-in mic is totally reasonable. It's not nearly the same as a professional mic in a sound booth, but it's enough that you can hear what's being played. This was done in one take and it's all improv, so there's a bit of meandering. You can also hear me changing the capo twice.
Acoustic Sample
in GarageBand (2:39 / 2.42MB)
So get to it. Post your submissions here, at Gus's site, via Technorati, or whatever else you can come up with.
At this point it's worth noting that
Kevin Callahan
of
Accessorizer
fame is an expert classical guitarist.