Redesign for CocoaHeads Silicon Valley
I put together a fairly simple site design for
CocoaHeads Silicon Valley
. There's shades of
Cocoa Blogs
here, but it's more stripped down and focused. Stephen just put it live.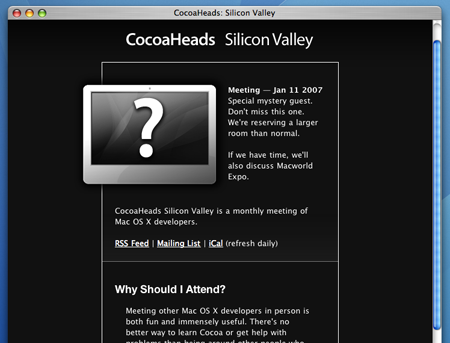 One of the main things I wanted to address in the text was the fact that you do not need to sign up or have a degree in computer science to attend a meeting (that's so I can get in). I guess we didn't make this clear enough in the past, so now it's it's in 18px Helvetica Neue.
The other important message to get across is that you shouldn't worry about feeling out of place. The group is very welcoming to new faces and it's a great way to find your rhythm for Cocoa development. I think most people leave there a bit more energized to go back and write some code.
Maybe the most important thing we do at these meetings, though, is tackle code problems that are difficult to describe over email. I know from the personal mentoring sessions that it's much easier to get the lightbulb to go on in person.
There's an
RSS feed
now, too.