Serious Kudos to TUAW
I've been waiting for a chance to send the guys at
The Unofficial Apple Weblog
some thanks, but instead I'm just going to say it. TUAW has been incredibly supportive of not just my various meanderings, but independent Mac developers in general.
It's not easy for independent developers to get real coverage on major web sites. TUAW could do just fine covering the big and obvious stories, but they actually take the time to write individual articles on smaller apps. Even more impressively, they take the time to write topics specific to
developing
for the Mac.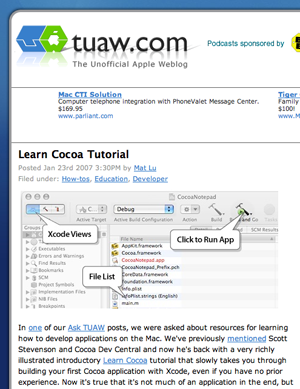 They even covered the
CocoaHeads meeting
at the Apple Store during Macworld Expo. This was helpful for both CocoaHeads and
Midnight Apps
, particularly because their readers are not as likely to be existing developers.
There's no driving business reason to do any of this. Most people visiting TUAW are not writing Mac software. I'm left to conclude that they do it because they think it's the right thing to do. For that, they have my ongoing respect.
So to
David
,
Scott
,
Mat
,
Erica
and everyone else over there looking out for the indie developers — thanks.