CocoaHeads: Cocoa and Rails Web Services
John Fox will give a presentation on integrating Cocoa with Ruby on Rails web services at CocoaHeads on Thursday February 8 at 7:30pm. John is the author of
MemoryMiner
, which recently gained
web-based
services: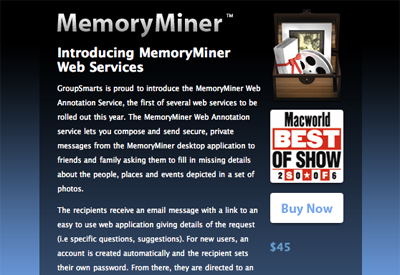 The MemoryMiner Web Annotation service lets you compose and send secure, private messages from the MemoryMiner desktop application to friends and family asking them to fill in missing details about the people, places and events depicted in a set of photos.

The recipients receive an email message with a link to an easy to use web application giving details of the request (i.e specific questions, suggestions).
Pretty slick, yes? John recently
posted something
on this topic at ZDNet. For those that don't know, MemoryMiner was an official "Best of Show" pick for Macworld SF 2006.
One interesting bit of trivia is MemoryMiner is based on
DataCrux
, which is a SQLite persistence framework I wrote a ways back. Some of the original code in there is, um, interesting. It was based on one my first Cocoa projects. John has his own fork which is considerably more evolved and actually actively developed.
The
CocoaHeads
meeting will be at Apple, but I'm not sure which building yet. We default to Building 1, but keep an eye out for updates.
As always, there's no need to pre-register and attendence is free. This is a public service to the Cocoa community. The only thing you have to do in return is spread the word.
See you there.