TextMate Wins a Jolt Productivity Award
The Jolt Awards were presented at the
SD West
conference tonight, for which
TextMate
was nominated. Allan Odgaard is currently in Japan so he asked me to accept the award in his name, which I was happy to do. This is actually a bigger deal for TextMate than it may seem.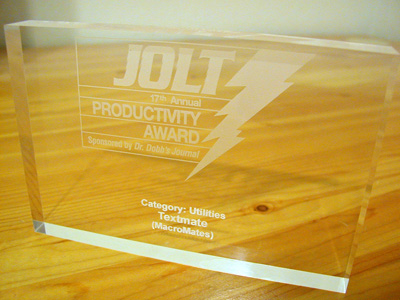 The nominees and the conference in general has a strong Microsoft, IBM, Sun and Linux influence. Apple is not an exhibitor (although there were many Apple laptops around). Therefore, the fact that TextMate was even nominated is really special. To actually receive the award says a lot about how many bridges a single Mac app can cross.
Allan wanted me to express his deep thanks to the entire TextMate community — particularly the bundle developers, the community members that raise awareness, and even individual users who have sent feedback in to suggest improvements to TextMate.
Of course, it's been a big twelve months for TextMate as Allan also accepted an Apple Design Award during WWDC. And just to top it off, build 1372 of TextMate was released last night with some notable improvements to the Objective-C and C bundles (thanks to Joachim).
(
Curious what sort of thing is hard to photograph? Well it's not mostly-translucent laser engraved glass if that's what you're wondering.
)