Cocoa Blogs Lineup for March 2007
There were a number of changes to the
Cocoa Blogs
roster over the past ten days or so. Some new blogs came out of nowhere and some existing authors have started to find their rhythm.
Dave Batton
was moved up to the featured section for writing several excellent tutorials in succession.
Late Night Cocoa
was moved up to featured status for being all-around fantastic. Not to mention having a Mac development podcast with a proper British accent makes us all feel a bit more cultured.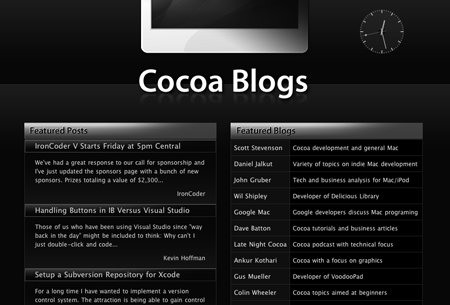 There are also newcomers in the secondary listings.








There
is
an RSS feed for Cocoa Blogs. In addition to being very convenient, it has extra commentary which isn't displayed on the main site. The feed is membership-based, and made available as a thank-you gift to anyone who donates at least $21 to
Cocoa Dev Central
. The account stays active for one year.
Donations support the production and operational costs of Cocoa Dev Central, Cocoa Blogs and Theocacao. All three sites are entirely supported by readers. That is, there are no ads on any of the sites by design. I could see a day when there might be ads from a few smaller Mac developers, but nothing handed down from a mega ad network.
If you would like an account, please make a donation at any of the
newer articles
. I realize that I need to make this explanation more visible, and that will come as part of a larger batch of updates.