CocoaHeads Oct 11: Google Data APIs for Cocoa
Greg Robbins and David Phillip Oster of Google have accepted our invitation to do a presentation on the
Objective-C Google Data APIs
at CocoaHeads Silicon Valley next Thursday, October 11. The meeting will be at 7:30pm at Town Hall on the Apple Campus.
If you want to get a head start now, you can take a look at the remarkably straightforward
tutorial
that Greg wrote for Cocoa developers who are looking to get started with this set of APIs. There's also a
blog post
on the topic.
I'm not sure if it's rolled into the Objective-C interfaces just yet, but it turns out that a
YouTube API
is available under Google Data API umbrella. So let your imaginations run wild on that.
It sounds like Greg may be doing a bit of traveling (?) to make it here, so please make it worth his while by coming down and participating, and emailing co-workers and friends who might be interested. Unlike the conference rooms in the past, we have plenty of space in Town Hall.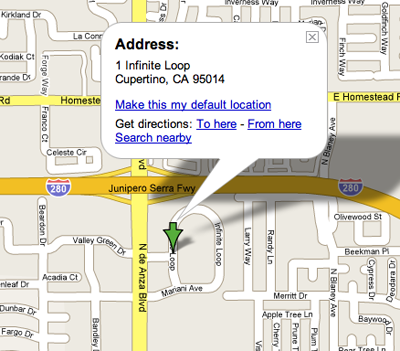 Thursday, October 11 at 7:30pm
Town Hall,
Building 4 Apple
If you enter the campus from the main De Anza driveway, turn left and follow the road all the way around until you see the gigantic 4 on the sidewalk. Walk up and knock so that someone can let you in.
There's no fee or pre-registration required. You can just show up. In addition to the featured presentation, CocoaHeads is a great place to get help with Mac programming, and we often have time at the end for demos or feedback on current projects.