THCanvasView: Finder-Like Icon View for Cocoa
Mimicking the Finder icon view isn't entirely easy. Drawing the icons is one thing, but handling drag and drop, repositioning, adjusting the scroll view when the content changes — it all takes some work. To ease the burden, I'd like to share THCanvasView with you.
(
Update
: See
THCanvasView 1.0.1
with a new sample app.)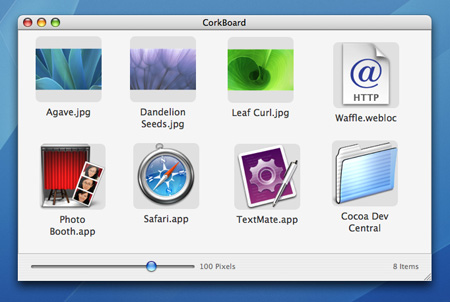 Downloads:
THCanvasView
(28k) |
THCanvasView + CorkBoard
(72k)
While I'm not promising this will address all of your icon view needs, it does do some of the basics pretty well. It accepts multiple file drops from the Finder, does global resizing, displays image previews, allows repositioning withing the view, and is even Cocoa Bindings aware.
It's missing some things that the Finder has, such selection rectangles, shift-selection, multiple item drags, auto-arrangement, and arrow navigation. There are also some minor bugs, and it could draw more efficiently, but it's at least 80% on the way to doing the sort of thing you would typically need to do. There are
tons
of comments.
Some improvements are pretty easy to address, others will take a bit more work. The single most obvious shortcoming is that the label text can only be as wide as the icon itself. This is, of course, silly, but I'd rather release the basic version now.
It's also a pretty good sample for basics on how to implement and use a custom view. The sample app is called "CorkBoard," which is just a simple wrapper around the view.
You can drop files onto CorkBoard, select them, move them, delete them, and adjust the icon size. Double-clicking an item will launch or open it. Cocoa Bindings is used to display a simple status message which tells you how many items are currently in the view.
It's a fairly basic implementation, but maybe somebody will come up with some interesting ideas for it. I may make some improvements or more sample apps and post them. Leopard provides a lot more options for better and simpler implementations of the same concepts, so maybe we'll look at that, too.
Enjoy.