MacFUSE CocoaHeads Talk Slightly Relocated
CocoaHeads
Silicon Valley is tonight at 7:30pm, with a presentation from Ted Bonkenburg of Google on making user-space filesystems with
MacFUSE
. The meeting is still in Apple Building 4, but we will be in "Garage 1," which is directly upstairs from the usual Town Hall room.

You still arrive at the same entrance at building 4. Instead of heading to the right, you'll take the staircase on the left to the second floor. There will be people around to show you the way.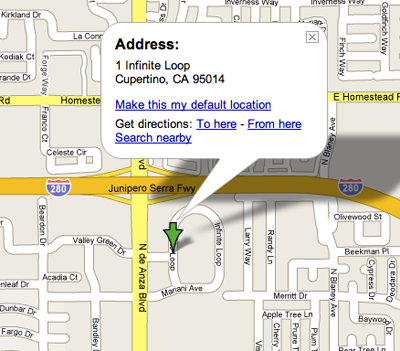 Thursday, January 10 at 7:30pm
Town Hall,
Apple Building 4
This will be a "hands-on" session, so bring your laptop with Xcode 2.5 or higher installed.
There's no fee or pre-registration required. You can just show up. If you enter the campus from the main De Anza driveway, turn left and follow the road all the way around until you see the gigantic 4 on the sidewalk. Walk up and knock so that someone can let you in.
MacFUSE Examples
Bill Bumgarner
just hours ago posted a new MacFUSE-based project called
RuntimeFS
, which displays runtime information about Objective-C classes as a filesystem. Like, in the Finder. Surreal, but awesome. About the API, Bill says:
Let me restate that: MacFuse kicks ass. The Objective-C API is trivially easy to use. Trivially easy. I implemented this little hack in less than two hours, not having looked at the MacFuse API before. Nor did I read the docs; just looked at this example and one header file.

I have implemented filesystems in a couple of different languages. Filesystems are hard. Or was. Not anymore.
Also see the previously-mentioned
GrabFS
and
iTunesFS
.
Video Recording
Side note:
There's interest in recording video + audio from the talk, but we have nothing planned for this yet. If this is something you know how to do and would like coordinate it tonight, email me at "theocacao" with mac dot com on the end. I think we'd also like to get a "video person" in general.