First Look at iWeb 1.0
So I played around with iWeb a bit and I'm pretty impressed. Not only is the thing very capable for a consumer tool, it's a lot farther along than it I would have thought for a 1.0. The layout tools are surprisingly flexible and have some controls in common with Pages and Keynote. I published a photo gallery of the
MLK Monument
in San Francisco as a first run.
I'm impressed by how well iWeb handles some of the more challenging composition cases. For example, I made a standard photo page and then dropped in a photo outside of the grid at a non-standard rotation and size. iWeb generated all the proper alpha channel PNGs with shadows to make everything look right. Slick.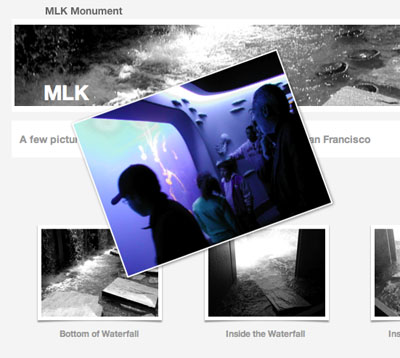 I think .Mac has found its soulmate here. Publishing to the service is incredibly easy with no need for user names, passwords and so on. iWeb seems to be pretty smart about only uploading things that have changed.
The photo slideshow engine is gorgeous. It tastes similar to Flickr, but I find it easier to navigate and it's accompanied by a really nice reflection effect. Creating an entire photo page and slideshow from iPhoto is ridiculously easy.
Things to Fix
There are some thing I'd like to see addressed in an update. First, I need a key equivalent (tab) to cycle through all page elements. It's too easy for one item to get "stuck" under another. Maybe a layer inspector or something would work here.
Next, a
Duplicate Page
command is desparately needed. Once you've tweaked a basic template, there's a good chance you're going to want to reuse it. In fact, I think we also need an
Add Page as Template
or something of that nature. I also found myself wanting a
Re-apply template
command -- something that would perserve current content but choose another layout. Keynote has something like this already.
I'm not sure the single window approach makes sense. It really seems like multiple sites should be displayed in separate document windows, but a multi-document approach might create synchronization challenges at the .Mac end. There also doesn't appear to be a way to open existing HTML files, which is a little frustrating.
On the photo engine side of things, a friend pointed out that some sort of search engine that looks for keywords entered in iPhoto would be really useful.
The quality of HTML/CSS code is pretty good, even though it gets somewhat verbose in terms of number of divs. It's not clear to me why nested 5 divs with separate styling attributes can't be combined into one, but maybe the answer is there if I look deeper. Also, it would be nice if more of the styles were put into an external CSS file instead of all going inline. Most web editors have these issues, though they are a bit less pronounced in iWeb.
Overall, I think this is a solid first release. It's most significant in the sense that it gives the average person the power to do some fairly sophisticated layouts without burdening them with any of the underlying issues. My girlfriend was able to take a whole bunch of photos and build a photo site without cracking any sort of manual and only very minimal intervention by me.
It's not only useful to entry-level consumers, either. It's so convenient that I'll probably use it at least for publishing some quick, one-off sets of photo albums and basic documents.