The Strange Parallel Reality of Vista
So I must be out of the loop with all of this Vista stuff. When I wasn't looking, Microsoft apparently constructed an
entire site
filled to the brim with transparency, Aqua sensibilities and colors, reflections and Myriad as far as the eye can see.

More generally, it also looks like Microsoft has taken to using Myriad on the large feature graphics on their home page.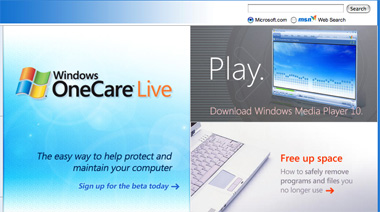 Myriad is, of course, Apple's corporate font. That's tame compared to the Vista UI, though. I clicked on the link for Windows Media Player 11, and saw a Windows application that's trying so hard to be Mac OS X that I just feel a bit bad for it. I mean, even iTunes looks more like a Windows app. I'm, of course, not trying to come down on the individual people working on the app -- it's the corporate strategy that seems absurd.
Then News.com decided to join in the fun. In
this piece
, they describe some of the features of Vista. Take a deep breath before you enter the thick cloud of irony:
"Among the features in the OS are security improvements, some snazzy new graphics, and a new means of searching and organizing information. Rather than having to remember the single folder where something is stored, users will be able to put documents in any number of virtual folders. They can also establish folders that will automatically update, such as 'files edited in the last week' or 'documents from Jane.'"
But wait, there's more!
"...broad IPv6 support, improved client-side caching of data stored on a server, whole-volume encryption, a revamped synchronization engine, the ability to support laptops with an auxiliary display, automatic hard drive optimization and a secure boot-up process that helps prevent someone from gaining access to your data if your PC is lost or stolen. There's also probably a ton of stuff we haven't heard about yet."
So this is all pretty standard Microsoft stuff, but why did News.com not pipe up and mention the remarkable parallels between this and things that Apple shipped in Tiger and even Panther?
I grant Microsoft
slightly
more slack for the visual design aspects of the Vista site and its actual UI. Apple's influence is so strong that it's hard to
not
mimic them from time to time. The list of Vista features, though, is just too much to take.
If the major publications wish to live up to their claims of being better than a regular blog, they have to take responsibility and point out that Vista was not created in a vacuum. Microsoft is always going to prop up its own reality about Windows, but News.com doesn't have to help them do it.