Brain Age Battle
So I just couldn't let
this
go unanswered. If you don't know what's going on here, you're looking at the profile selection screen in
Brain Age
for Nintendo DS.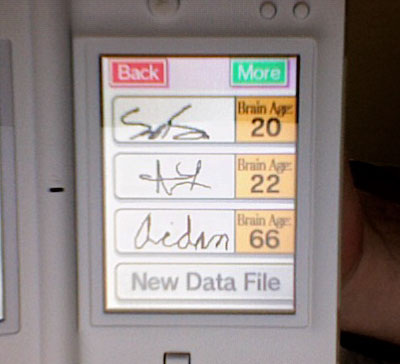 I've been meaning to 'review' this game for some time. It's the one game I'm likely to jump into just about every day. The theory is that you play it to keep your brain in tune, but it's also just fun, and you can pick it up for just a few minutes.
There are a handful of mini brain-testing games that involve simple calculations, object indentification, time differences, and so on. Almost everything revolves around the stylus, so you're not mashing buttons, you're writing (or speaking) answers.
At your leisure, you can do a "Brain Age Check," to find out how you're progressing. The consensus is that this isn't a gimmick, and I agree. It really does keep your head in gear.
Highly recommended.