A Simple Five-Button USB Mouse
Sometimes the simplest things are the most elusive. There are a number of options for multi-button mice at the Apple Store, but I couldn't find one with 4 or 5 buttons for the price I had in mind.
I found the
Kensington Optical Elite
for $19 at Fry's. It's simple, straightforward, has five programmable buttons, a nice soft texture, a low profile and is the perfect size for my hand.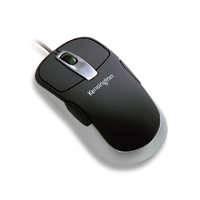 I've only been using it for about an hour but it seems to fit nicely.