I Finally Got a Wii
I've been interested in getting a Wii for a while, but never quite enough to stand outside in the cold for two or three hours. So, thanks to Craigslist, I found someone selling a sealed Costco bundle at a very minor premium. Patience pays off. I'm realize Wii impressions are not breaking news, but it just wouldn't be Theocacao if I didn't talk about new Nintendo stuff.
The interface is brilliantly designed. Fun, simple, responsive. The weather and news channels are crazy ideas that work. There's something so surreal yet so appealing about seeing the weather report on a tiny little white gaming box. I love the Globe view. I like the Mii a lot concept too. The "live" aspect of the thing really adds a lot to the experience. It's like Nintendo has create a virtual universe all their own.
The Wii web browser is crazy fast and renders Theocacao, Cocoa Dev Central and Cocoa Blogs shockingly well. Go Opera. Go web standards. Even YouTube works, which — navigation issues aside — is maybe more interesting to watch on a TV than a computer monitor.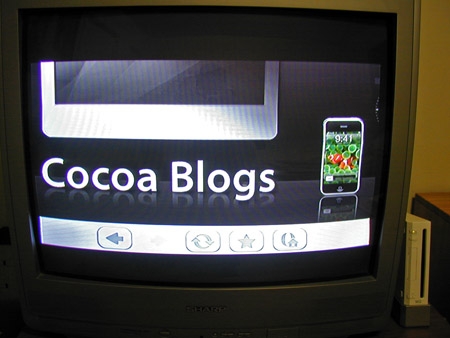 The only game I've had in there so far is Zelda. That's really the reason I bought the thing. I'm glad I didn't just settle for the GameCube version because aiming is infinitely easier with the remote than the joystick, and widescreen does make a difference. I wasn't sure how the remote/nunchuck combo was going to feel, but much like the DS stylus, it's surprisingly natural.
One thing I figured about within the first hour of Zelda is that composite video at 4:3 doesn't look so hot, particularly since I'm used to watching movies on a nice computer monitor. Then I remembered my TV actually does support 16:9 (widescreen), so I switched over to that. Better, but still muddy. I went out and got a component cable. Wow — what a difference. Well worth the investment.
The Wii works seamlessly with Airport Express, which I'm very thankful for. I created some Miis you guys and gals may recognize. My Wii code is:
5079 6348 8331 7417
I poked around the virtual console games. Mario 64 and Sonic look interesting. It's nice to see Bonk's Adventure in there, and I'll probably pick up Super Mario Bros just because. I also think this may rekindle my interest in GameCube games. I never did get around to checking out the most recent StarFox title. By the way,
this page
is very helpful in explaining which controllers work with which games.
Can I tell you how much I'm waiting for Metroid Prime 3? What games can anyone recommend? Zelda and Excite Truck came with the bundle. Elebits looks interesting, too. What's a good site to keep an eye on for Wii news? I'd rather find something a bit more low key than huge multi-platform sites.