Wii Play Review
Nintendo's
Wii Play
is a combo pack of nine mini-games and an extra Wii remote. The games are immediately fun, brilliantly designed, and extremely addictive. Here's a quick roundup.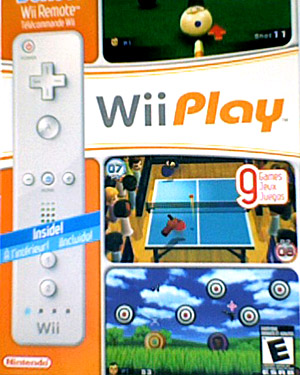 1.
Shooting Range
: Heavily influenced by Duck Hunt from the original NES. Items appear on the screen — balloons, clay pigeons, soda cans — and the two players compete to hit the most items. The highlight is when aliens come to abduct your Miis and you have to take down the UFOs.
2.
Pose Mii
: You rotate the controller to fit your Miis into various positions. The wonderfully bizarre thing about this one are the images that appear as backgrounds. A close-up photo of two birds, for example. Why not?
3.
Table Tennis
: Awesome! There's not much to say about this. It's ping-pong, and it's great. Each Wii remote makes a sound on impact, which is a subtle but effective addition to the experience.
4.
Laser Hockey
: Air hockey with a glowing effects. Anybody could spend ridiculous amounts of time playing this, and the graphics are great.
5.
Fishing
: This one takes a bit more patience than the others. You wait for a fish to bite and pull it out, much like in Zelda. Not as frantic, but maybe a good break.
6.
Billiards
: Most excellent execution of a simple nine ball game. You hold down the B button, pull back on the remote, and then punch it forward, just as you would do in real life. For some, this might be enough in itself.
7.
Find Mii
: A "Where's Waldo" thing which incorporates custom Miis. Has something of a Brain Age feel to it, with the obvious exception that it doesn't involve any sort of a math.
8.
Charge
: The oddball of the bunch. You steer a cow through a racetrack, running over scarecrows and jumping fences. You tilt the remote at various angles to steer and accelerate, and move the remote straight up to jump.
9.
Tanks
: We played this for hours. A brilliantly simple but incredibly addictive game where you drive toy tanks around and try to take out opponents with cartoony ricocheting bullets. It's an interesting mix of cooperation and competition. You want to get the highest individual score, but part of that involves helping your buddy. Just perfect.
The clever thing about a number of these games is that they incorporate custom Miis into play. The on-screen text suggests that the goal is to teach you how to use the Wiimote. That may be true, but it's beside the point because the games are ridiculously fun. A true rebirth of the "
I even don't want to know what time it is
" gameplay that made so many lifetime Nintendo fans out of ordinary citizens.