Wrap-Up From Leopard and Cocoa Bindings Talk
We had a fantastic turnout last night at
CocoaHeads
— the most attendees I can remember seeing there, and certainly the most in the last year. I did a head count at one point and at least a quarter of the people there were first-timers.
Michael Jurewitz from
Apple DTS
gave a great presentation on his
TwoManyControllers
example, which is hugely helpful if you're trying to do multiple levels of to-many sets using Cocoa Bindings and NSArrayController. The sample is also notable in that it's not just a bare Xcode project. It includes diagrams which explain the bindings between views and controllers.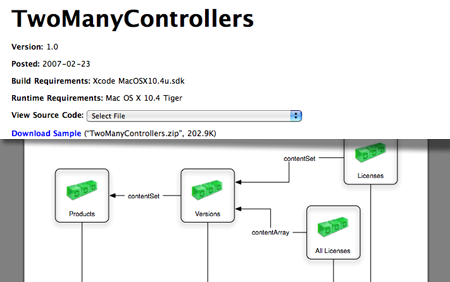 Deric Horn from Apple Application Technologies Evangelism gave an excellent summary of the new APIs coming in
Leopard
, spending most of his time on
Core Animation
then glancing quickly at some of the other new additions. There were quite a few questions and comments which tells me people are interested in this stuff.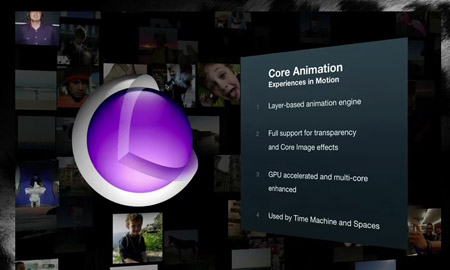 I had some fancy Cocoa Bindings and Core Data examples to show at the end. I pretty much had to throw them together at the last minute, but I'll post them as soon as it is practical to do so. I think I at least gave enough starting points to get people heading in the right direction.
While all of that alone would be enough, a number of Apple frameworks engineers were kind enough to hang around after the presentations to spend some time fielding questions from attendees.
I've been talking to Deric for the last few months about jumpstarting the local chapter of CocoaHeads so that it can be a flagship model for the other chapters. I think we saw the beginnings of that paying off last night. Big thanks to Deric, Michael and everyone else who showed up to participate.
The meetings are the second Thursday of every month, so we look forward to seeing you all on April 12. Please sign up for the CocoaHeads Silicon Valley
mailing list
if you'd like to receive reminders about upcoming meetings. If you're working on an application and would like to present it, send me an email (
sstevenson at .Mac
).