Ridiculously Useful Shortcuts Easily Forgotten
There are some truly invaluable keyboard shortcuts in Mac OS X and related apps that can get lost in the noise. Here a few I found or was reminded about recently.
Space goes down one page in Safari. Shift-Space goes one page up.


Command-Shift-A summons the Applications folder in the Finder. Command-Shift-U brings up Utilities.


Control-Command-D will bring up a floating dictionary panel over any word in a standard Cocoa NSText-based view or WebView.


Option-Esc will offer autocompletion in just about any standard Cocoa text view. I'm not sure exactly how the list is constructed, but most of it seems to come from the built-in dictionary (see the Daring Fireball post about this)


A subset of Unix-style key bindings work in many text contexts. Control-E goes to the end of a line, Control-A goes to the beginning, and so on.


Option-Command-H hides all apps except the frontmost one.


There's a plethora of keyboard fun available by clicking a few checkboxes in System Preferences → Keyboard & Mouse → Keyboard Shortcuts.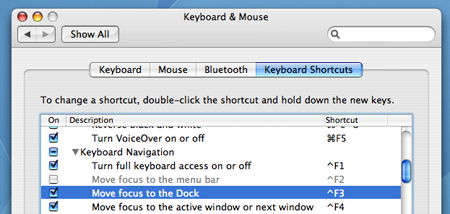 Under the "Keyboard Navigation" group of shortcuts, there are two particularly interesting tools. The first is Control-F4, which allows you to cycle through
all
visible windows, not just those in the current app (as with Command-tilde).
The really fancy trick is Dock focus with Control-F3. It's nice enough to be able to select an icon with the keyboard and activate it, but if you hold down Option and press the arrow keys you can re-arrange the icons at will. I can't explain why, but this is really fun to play with.
Also, if you activate full Keyboard Access in this same System Preferences pane, you can navigate through most onscreen controls with Tab.
Of course
QuickSilver
offers tricks far beyond all of this, though all of the above tips work out-of-the-box on any Mac.