Thirtieth Anniversary of the Apple II
Monday is a big day. The Apple II was first introduced to the world on
April 16, 1977
. For all practical purposes, it was the first personal computer, and it was designed essentially by one person.
Appreciation for Apple II really goes beyond whether you're an Apple person or not. Without this machine, there would likely be no Mac, no Windows, no desktop environments for Linux. Steve Wozniak created something the world had never conceived of before, an experience he talks about in
iWoz
.
It's sobering to consider how distant in technology time the Apple II is from the Mac Pro or the iPhone. Many technology companies are lucky if they ever ship even a single product with worldwide recognition and last more than a few years.
The original announcement predates me, but I do have one strong memory of the Apple II. In my elementary school, we'd take a trip to the Apple computer lab every Tuesday and Thursday. In theory, we were there to do work or something, but we were really in it for the games.
The game, of course, was
Oregon Trail
. So help me, I lost more oxen in that river and laid claimed to several orders of magnitude more meat than my little character could ever carry back, but it was endlessly fun in all of its green monochrome glory.
The best part may have been that you could name your characters after your friends, and then yell at them across the room when things happened to them in the game.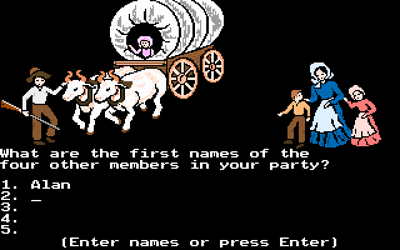 As the school year would wind down, the teachers wouldn't even bother trying to get us to do the math work, but would just let us play games on the Apple IIs. I don't think they realized it, but that was a signal that you had reached the end of a long journey — the whole school year was finally over. Unbelievable happiness on the cusp of the freedom of summer.