Announcing NSCoder Night
Chris Hanson
had the idea to start up a weekly Mac programming help + hacking night using regular CocoaHeads attendees as a base. The idea has now become reality in the form of
NSCoder Night
, every Tuesday in Campbell at Orchard Valley Coffee.
We do this thing
weekly
— every Tuesday night. We're starting immediately, with the first meeting
this Tuesday, Oct 30 from 7pm to 9pm
. If you're looking to get your first batch of Leopard tools and framework questions answered, this is a good start.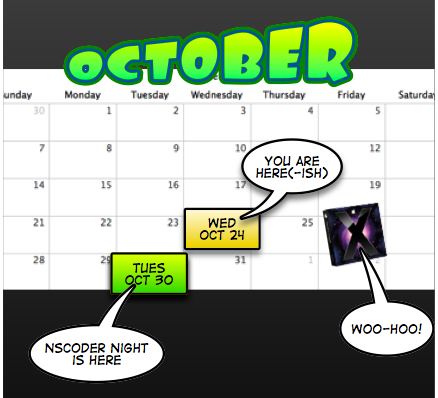 CocoaHeads
has a feature presentation, Q&A time, and mini demos. NSCoder Night has no presentation. We just show up and do our thing. We've run the numbers and 70% of the time will be for hanging out, and the remaining 30% will be for just kicking it. We may write some code somewhere in there.
The idea is that you can bring your laptop with any project that you're working on. You can walk up to Chris or me or anyone else who you have a question for, and we'll do what we can to answer it. The fact that we're there means you're not risking ambushing us, so don't be shy. You may also just want to demo your project to some other developers and get feedback.
To add something else to the mix, I'll leave my door open for UI and design help for anyone who is interested in that sort of thing.
If you've been to CocoaHeads, you'll probably see some familiar faces, but anyone is free to show up. In other words, don't think that because you haven't been to CocoaHeads you'll be out of place. In fact, you could just attend in stealth mode initially if you want.
Location and Details
Chris chose
Orchard Valley Coffee
based on a few factors: size, accommodations, power outlets and internet. I haven't been there, but I'm told it's fairly large, has power outlets all over the place, and has solid free WiFi service. Even the two-person tables are quite reasonable.
NSCoder Night
— Episode 0
Tuesday Oct 30, 7pm - 9pm
Orchard Valley Coffee
349 E. Campbell Avenue
I have no idea how many people are going to show up but I'm just excited we're doing this. Please spread the word.
But Wait, There's More!
Chris has expressed interested in having multiple chapters of NSCoder Night in various locations across the country and world — even in places where CocoaHeads meetings are not currently held. If you'd like to start a chapter,
contact Chris
and he'll get you started. The advantage of this approach is that we can probably help you with the promotion of your particular location.
See you Tuesday night.