CocoaHeads Nov 8: New in Cocoa for Leopard
Deric Horn, Application Frameworks Evangelist for Apple, will give us at a look at what's new in Cocoa for Leopard during the next
CocoaHeads
Silicon Valley on Thurs, Nov 8. The meeting is at 7:30pm in Town Hall, Apple Building 4. This is the first post-Leopard meeting, so we can freely discuss details.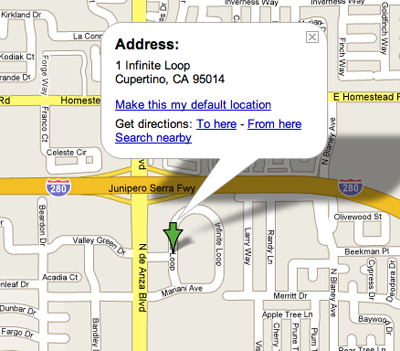 Thursday, November 8 at 7:30pm
Town Hall,
Building 4 Apple
If you enter the campus from the main De Anza driveway, turn left and follow the road all the way around until you see the gigantic 4 on the sidewalk. Walk up and knock so that someone can let you in.
There's no fee or pre-registration required. You can just show up. In addition to the featured presentation, I believe we are scheduled to see a quick demo of
BusySync
, since one of our regulars works on the app.
Also, remember the next (weekly)
NSCoder Night
will be this Tuesday, Nov 6 from 7pm to 9pm at
Orchard Valley Coffee
. For a rundown on what NSCoder Night is all about, take a look at the
original post
on it.
See you there (both nights!).