Theocacao Redesign for Dec 2007
A brand new design went up today. I did the initial prototype in about four hours, and spent the next ten days iterating through about thirty versions. I usually just put up whatever I like, but the changes were different enough that I showed it to one person ahead of time, just to check.
My design criteria was basically this: I want a site I enjoy visiting.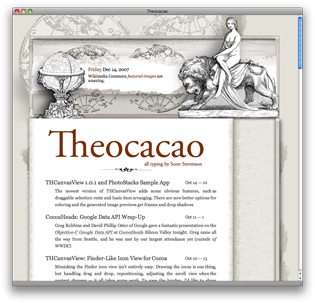 I'm really interested in this idea of functional places — in particular stores or restaurants — you go to just because you want to be there. I think a lot of people know this feeling about the Apple Store, and it's played up at the 24-hour locations. There's a certain mood about a place that you want to experience.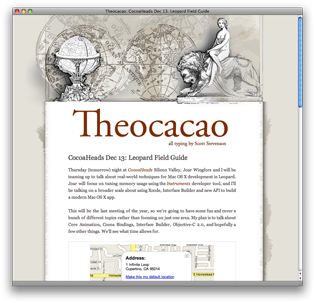 This translates into web sites, too.
Daring Fireball
is an excellent example of this idea. It's not just a bunch of text — John Gruber has sculpted a particular feeling into the granite. Although maybe it's too few degrees of separation, I think this applies to Jesper's
Waffle
, too.
In fact, these are two sites I'll visit without prompting from an RSS reader. They're both very well-written, of course, but the fiber of what they're about is actually woven into the presentation. I dig that. I think you know something about the authors just from the sensibilities of the sites.
While Theocacao doesn't look much like these sites, I hope something similar comes across: that there's a particular feeling being sent out over the airwaves. I guess this idea is at the core of the designs for
Cocoa Dev Central
and
Cocoa Blogs
design, as well.
I hope you guys and gals enjoy it.