Core Animation Sample Code: NanoLife
NanoLife is a simple Core Animation project with a single layer-backed view and a collection of sublayers. Each sublayer has a glowing sphere and moves along a random path, giving the impression of a microscopic lifeforms (
or maybe fireflies?
).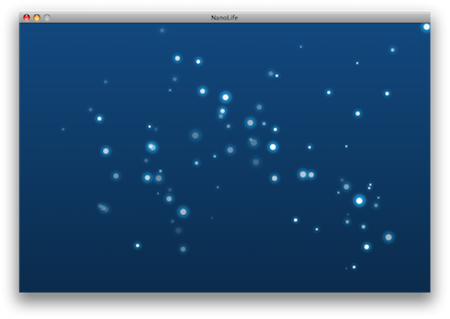 You can switch to fullscreen mode by pressing any key, and switch back again by pressing a key again. The impressive bits about this is the very small amount of code used to achieve the effect, and the incredible scalability. The base layer count is 80 for artsy reasons, but I'm sure you could get away with a lot more.
The image size, opacity, and animation path are all random, so it's a new show each time. If you click hold the mouse button, the lifeforms will all be instinctively attracted to the mouse pointer. Once you've gathered them all up, you can drag them to a new location and release them for nice expansion effect.
For extra fun, try dragging them to different points outside of the window bounds and releasing them (
for example, off the bottom edge of the window but horizontally centered
).
This project is Leopard-only and has examples of:
- Core Animation
- Core Image filters
- Conversion between NSImage, CIImage, and CGImageRef
- Full screen mode for NSView
I did not use
NS_BUILD_32_LIKE_64
for the project, because I wanted to avoid situations where somebody would copy-and-paste the code and see build errors in another project.
This project also has a simpler source usage terms than the BSD-ish license I've used in the past. The new license reads:
The purpose of this code is to provide an example of how to
write Mac software.

You may use this code for any purpose, though I ask you receive
permission before re-using any substantial portion of it in a
tutorial of your own. For info: theocacao at mac dot com.

An acknowledgement in release notes of your software is always
appreciated, but not required.
I hope that makes life easier for everyone. It also occurred to me that some people might want to run these little apps without dealing with Xcode, so I'm including a pre-built, double-clickable version too.
NanoLife Downloads:
Xcode 3.0 Project
/
Pre-built App
Enjoy.