Objective-C and PHP Additions in TextMate 1368
The newest build of
TextMate
adds completion-related improvements for Objective-C and PHP. Here's a quick glance at what they are and how to use them.
Objective-C Additions
The Objective-C bundle can now autocomplete all of the important class names inside messaging brackets.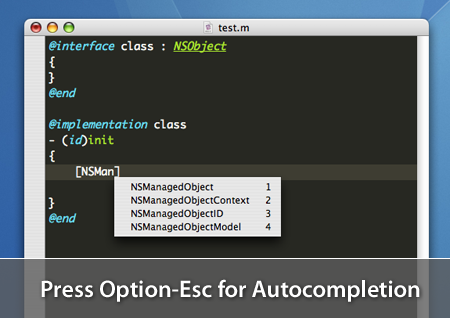 A minor inconvenience is that there are two commands that do very similar things. Esc will autocomplete from a short list of the most popular classes — string, array, dictionary, and mutable versions of each. Hitting escape multiple times will run through these options very quickly. This is a good tool whenever you quickly need basic storage.
Autocompletion with
Option
-Esc consults a vast list of classes and presents the results in a popup list, but only works inside square brackets. This command will offer
both
NSArray and NSArrayController, for example, whereas the quick completion would offer only NSArray.
Also, you might remember that
TextMate 1360
added easy object instantiation by typing "NS" and hitting tab, which creates a new instance for most of the obvious classes in the main frameworks. Not to mention
build 1310
added method completion, which is activated by the same Option-Esc sequence as the class names.
An incredibly valuable addition here would be for the new class completion command to work in a broader scope, so that it could be combined with the "NS" tab trigger (
hint, hint Joachim
).
If all of this is too much to remember, just use Option-Esc when inside square brackets to autocomplete class or method names. Use Esc to complete symbols that
you
type (variable names and such).
PHP Additions
PHP has picked up the function popup lists as well, using the same magic Option-Esc sequence.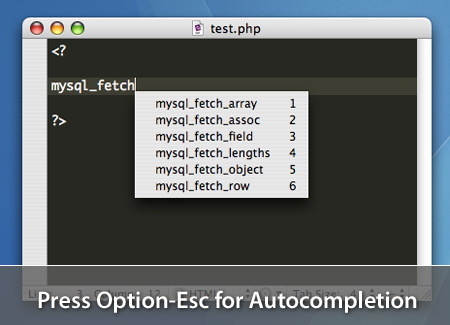 You can get much of the same functionality by just hitting Esc to run through various options. Unsurprisingly, this works much the same as the Objective-C bundle.
Particularly interesting in this build are the documentation-related additions to the PHP bundle. The first is Option-F1 to get a tooltip with a signature and short description of the current function.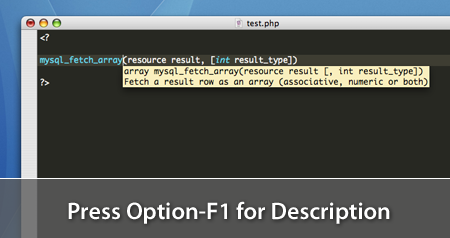 The cursor must be outside of the parenthesis for this to work, by the way. Also, you can bring up the live documentation page for a function with Control-H: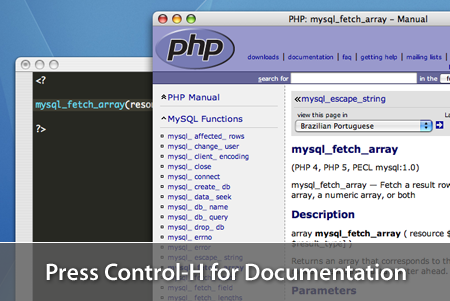 As always, you need to activate
Cutting Edge
updates in Preferences → Software Update in order to get the newest builds.