Wrap-Up from April 12 CocoaHeads
R. Tyler Ballance
came to
CocoaHeads Silicon Valley
on Thursday night to give us a look at the Windows side of software development, sharing some insight on not just the tools and frameworks but also the differences in culture for independent developers.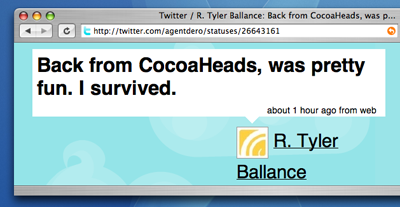 His talk confirmed for me what I suspected ever since reading about
Wil Shipley's WWDC student presentation
several years ago: the Mac shareware market is much different than the Windows market. Tyler's feeling seems to be that there is no "independent" market on the Windows side, at least not to the degree that we're used to. In fact, he reiterated that there's never been a better time to write Mac software.
On the technology side, it sounds as if the strengths of Microsoft's tools and frameworks really reflect their core business: huge, multilayered organizations with many, many custom in-house apps for internal business processes. Cocoa's strengths lie in delivering ready-to-use desktop apps for individuals and small businesses.
I also talked Tyler into showing
BuildFactory
briefly, although it took some convincing because it hasn't been under active development. Personally, I think it's an interesting product and maybe just hasn't found its audience yet. Take a look at some of the
BuildFactory tutorials
and see what you think.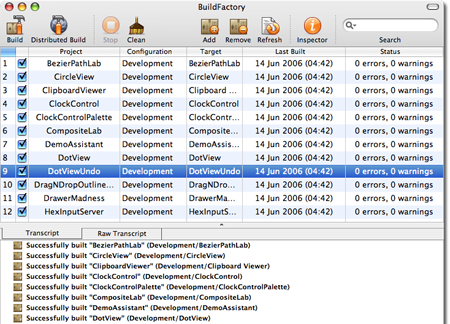 I don't want to put words in Tyler's mouth, so maybe he can sum up his thoughts in a blog post or even in the comments here. In any case, we really appreciate him coming down on such short notice. I think we talked on the phone about 48 hours before the meeting, and he came all the way down from San Francisco to give the presentation.
We saved some time at the end to get answers to some Cocoa questions and briefly explored some topics related getting started with Cocoa and what sort of projects people are currently involved in.
Blain
showed us a Subversion front-end he's been working on. Major thumbs up to him for having the guts to stand up and show off an in-progess application.
See you all on May 10th.
Update: I forgot to mention we had record headcount again — standing room only at one point. It was great to see so many new faces. Thanks everyone.