WWDC Bash in San Francisco
A number of people have commented on the
WWDC bash
being moved to San Francisco this year. I don't know the "official" reasoning for it, but I remember very clearly my impression of the bash last year.
In the middle of the event, I stood in the quad, looked around and thought "Wow, this is great. Look at all of these Mac developers." About two-point-one seconds later, my thought was "Ummmm, where are they going to put all of these people next year?"
As nice as it is to hang out on campus, there is a finite amount of room there, and it was cramped even last year. Ultimately, it's a good problem to have, and San Francisco is not exactly a low-key place. It also has the distinct advantage of not being an hour away from the conference center.
Keep in mind that you're still allowed to go to the external part of the Apple Campus itself and the Company Store. Many people stop by and
take their picture
in front of Building 1.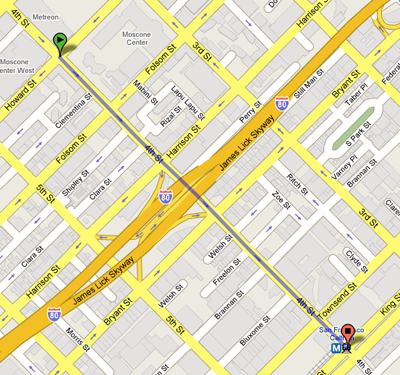 You can take a cab (or even just walk) from Moscone West to the train station at
4th and King
, go down to the South Bay (
Sunnyvale is a good stop
), and call a cab for a 15 minute ride to the campus. The
Caltrain site
has schedules.
In any case, maybe there's something be said for the fact that the WWDC bash in San Francisco is a brand new thing, so no one knows what to expect yet.