We're Almost There
We successfully installed the new Xserve hardware last night. This was after we upgraded to a full cabinet. Initially, things seemed bleak when we got there. Although we now had four posts to mount on, the rails for the Xserve wouldn't line up on the posts.
In the
Xserve manual
, there's a section on installing the mounting rails. The instructions give you two paths: one for square-hole racks, and one for threaded-hole racks. The holes in our cabinet were threaded, so I used that set of instructions: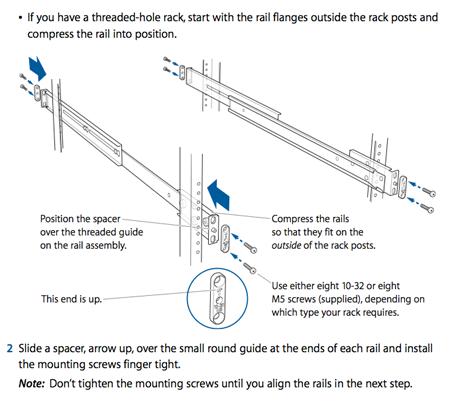 But then we hit two challenges. First, we couldn't find the spacers for the threaded hole configuration. Presumably, they were lost somewhere in the unpacking. But then we decided to just try to do it without them.
Then we hit challenge two. It turns out the mounting rails that come with the Xserve are too shallow for the threaded-hole racks that Hurricane Electric provides. Although it seemed like there was no way to make it work, I started looking around and discovered that some of the racks in the same suite had square mounts. I tested the Xserve rails and they fit
perfectly
.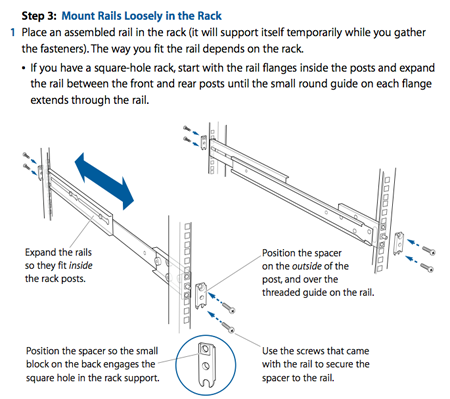 I asked the HE technician about it and he said he could get us some racks with square holes. A few minutes later, he brought them over and we started uninstalling the old racks and installing the new ones them before he even brought us the proper tools. A short time later, we had the Xserve installed.
Wherein I Get Slightly Philosophical
In what strikes me as a semi-Douglas Adams moment (
which is appropriate because Hurricane Electric seems like bowels of a ship in a sci-fi movie
), just as we started looking for the
square-mount
spacers they suddenly fell out of a bundle of hardware I was holding.
Right onto the ground. Like "
Hello, I'm already here. No need to search
."
That in itself would have been mildly entertaining, but the irony is that I was later concerned about not being able to find the
threaded-hole
spacers. In my head, I saw it as "
we have threaded hole racks, we need threaded hole spacers to make this work
." It seemed like there was no way around that.
We decided to stop worrying about it and just try to mount it anyway. Only by doing that did we discover that the point was moot. We needed a completely different set of posts to make it work. Ultimately, we used square-hole spacers which — as you might remember — are the ones that I saw in the beginning.
So two thoughts here. One, if you want to install an Xserve, you want a four-post cabinet with square holes. Secondly, if you get stuck on something, just keep moving, pay attention, and the answer may present itself. Or at least it did for me. It's amazing how often that happens.
There's one last challenge. The plug in the back sticks out too far to close the door. Does anyone know where to get a "flat" three-prong plug for an Xserve so that it fits comfortably in the cabinet?
As I said to
Jesper
, the hard(ware|part) is over.