One Week to WWDC 2007
With seven days and some twentish hours
to go
, WWDC 2007 is imminent. Let's take a quick look at what has happened recently and where things stand now.
Get Ready
If you already have a WWDC ticket, you can login to the
attendee site
and setup your schedule for the week using the "My Agenda" online app. Once you create your schedule, you can subscribe to it using iCal, which is updated as you add and remove sessions.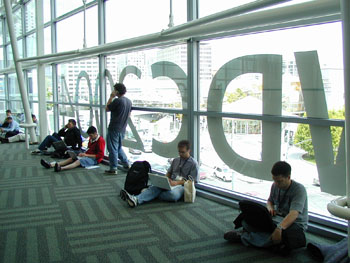 To take full advantage of the conference sessions and on-site interaction with Apple engineers, it's in your best interest to check out the
Coding Headstarts
on the ADC site. A more complete description is available
here
, but essentially these are each lesson-in-a-box, with source code, a project guide, and a video introduction from an Apple engineer. There are a total of nineteen Headstarts now:
Automation
Carbon and Cocoa Integration
Coding Smarter with Objective-C 2.0
Core Animation
Core Data Fetching
Creating a PDF Viewer with PDF Kit
Enabling the OpenGL Multithreaded Engine
Enhancing a Widget with Dashcode
Fundamentals of Kernel Debugging
Getting Started with Calendar Store
Getting Started with Cocoa Bindings
Getting Started with QTKit Capture
Introduction to Scripting Bridge
Make a Photo Viewer Using Image Kit
Performance Tuning Quartz2D
Polishing a Quick Look Plug-in
Resolution Independence
Try Out Your Shaders with GLSLshowpiece
iChat Theater
Once you've looked through these, you'll be better prepared to go into presentation sessions and will likely be better equipped to ask questions in the labs.
Finally, I suggest you keep Wednesday night (June 13) free, particularly between 7pm and 9pm. We're going to have a little get together at the Apple Store in San Francisco. More details on that shortly, but I think you'll want to check it out.