Learn Cocoa Tutorial Updated for Leopard
The
Learn Cocoa tutorial
at
Cocoa Dev Central
is updated for Leopard. It turns out this actually isn't as easy as just swapping a few screenshots in. Interface Builder was completely rewritten, so everything is in a new place.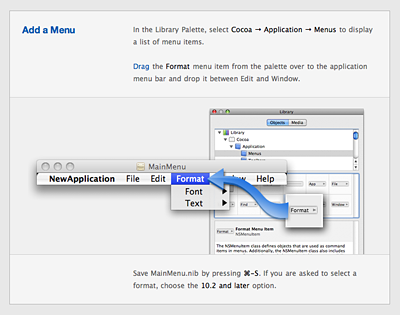 It's also challenging to come back to tutorial I put together a year ago. When I look at the same material, there are so many things I want to do over, but I also want to get it out as soon as possible. The result is something of a compromise. Some sections were completely redone, some things were left as is.
I think it's probably one of the most gentle, stress-free ways to learn the absolute basics of writing your first Cocoa app. It walks you through setting up a project in Xcode, creating a single window in Interface Builder, and testing out the result.
I hope you like it.