Zelda Twilight Princess for Wii
As with the
Wii post
, Zelda reviews are not new, and I'm not anywhere near the end of the game, but I wanted to say a few things before things get too far on. Actually, I really only need to say one word:
Wow
. What a stunner. This game is every inch an epic.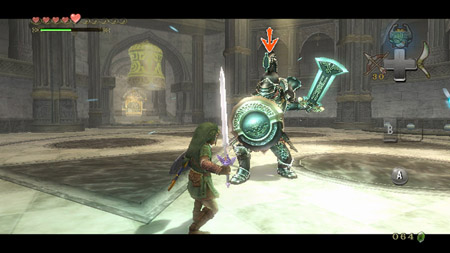 Epic sometimes comes across as simply "immense." But I really think it means "immense and enthralling." There are a some really big adventure games, but this one stands out. Zelda just radiates this energy. The world is absolutely teeming with life and you can just sense the love and care that went into the design of everything. It's video game art of the highest form.
It's surprising how much the physical movements of the Wii controller add to the mix. If you watch somebody playing Wii as an observer, you think "wow, that looks awkward." I don't know why, but it's extremely natural. The swinging and jabbing of the controllers truly does pull you in more. Aiming projectiles like arrows and the boomerang is actually a joy versus the "I hope this works" aspect of aiming with a control stick.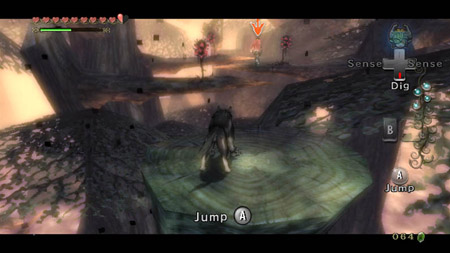 The environments feel incredible, the gadgets are clever and fun, the puzzles are true to form, and emphasis is on exploration and the journey of the character. It's not just an evolution, but a huge expansion of the Zelda world. I'm particularly happy about how you don't have to wait until the end of the game to get a reasonable set of paraphernalia. You get to enjoy some of the best stuff all of the way through.
The graphics are
stunning
, yet this is balanced by a subtle brilliance. The game environment, story, characters — everything — starts out tame, and slowly seduces you in a sensory assault. I really cannot overstate how different the game experience is with component video. Invest the $30 dollars in component cables, and play in widescreen format if possible.
It's hard to say exactly how they did it, but at least in my book, Nintendo has somehow brought back the raw excitement of video games from the early days of the NES. Don't get me wrong, the other systems had some great moments, but this is truly something special. It's hard to believe that I
almost
didn't buy a Wii because I didn't want to bring the TV back in. Thanks goodness I didn't let logic and reason get in the way.
Now, if I could just have Metroid, please.