Choosing When to Upgrade Hardware
New Mac Pros are out, which means the discussions have started about whether to upgrade now or wait. Of course, some people hold out for specific hardware features, but others want to buy at the
perfect
time, which doesn't really exist.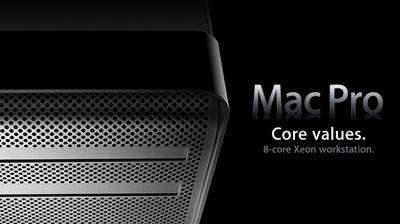 In particular, there's a paradox about the newness of the technology. Conventional wisdom of the nerds says two things:
1.
Don't buy into the end of a technology curve
2.
Don't buy first generation products
These are mutually exclusive. Yes, there's some mythical sweet spot in there where the technology is new enough to be cutting edge but old enough to not be bleeding edge. Finding that specific place in the continuum is easy in hindsight, but hard at almost any other time.
So what do you do? I think you should buy a new machine when you believe it will help you in some way (
and helping you enjoy yourself is still helping
). Worrying about technology you may "miss out" on is a funny thought because you could be using your new machine during that whole time you're waiting.
Andy Ringsmuth said it best on
macosx-talk
:
Yeah, I keep holding out on upgrading my Mac 512k in eager anticipation of the next amazing Mac. And then it comes out and I wonder what else Steve has around the corner, so I keep on waiting.
I remember seeing a story on a news magazine show where researchers followed several consumers around who were looking to buy a higher-end television. There are, of course, a lot of options. What the researchers determined is that there are simply too many choices to declare any one model perfect. You drive yourself crazy trying to identify such a thing. Instead, they suggested that you choose the
first one that works
.
You see similar things in software development. People that really care about their code will try to find the perfect design. If it's a hobby, that's great. If you want to ship something reasonable, the best option is often (
though not always
) the first design that works. You'll probably change it later anyway. Another way of looking at this is to first implement the simplest design that does the basic task, then build on it.
For some reason, this reminds me of
this scene
from
The Princess Bride
(reworded, of course):
Vizzini: Only a great fool would buy into a first generation product. I am not a great fool so I cannot choose the new machine. But I don't want to invest into the end of a technology curve, so I clearly not cannot purchase a later revision.

Roberts: You've made your decision, then?

Vizzini: Not remotely!