First Look at Coda 1.0
I saw that
Coda
was coming out on Monday, and I knew it might take over my morning. I mean, it's a new web development from a developer that knows how to write Mac software. If I started playing around with it, I knew I'd get nothing else done for several hours.
So I pretended it wasn't there, and it was working quite successfully until
Jesper
decided to send me an IM about how great it is. This is like working on your thesis and getting a text message about how great Disneyland is.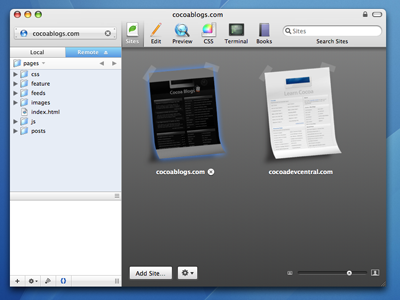 So I looked at it, but I showed restraint. I did my first twenty minute run through, and started showing it to some other folks. I still haven't had a good real sit-down with it yet, but my basic reaction is this:
somebody finally got it right
.
Literally, every time I worked with a web development app, there was an initial honeymoon period, then I'd think "this is ridiculous," and go back to a text editor, Safari, Terminal, and Transmit for uploads. It's like all other web development tools were designed by people who
weren't actually building websites
.
Now, I'll be honest. There are still some rough edges in Coda, but it's like the sun coming up over the horizon. It doesn't fully illuminate every corner of the landscape yet, but you know that dawn has finally broken.
I see what they're trying to do, and they're already miles ahead of everyone else, so I purchased a license while it was still downloading. I want to invest in this sort of thinking, and I want to invest in great Mac developers.
Favorite Features
First, I want to mention that I intentionally didn't read any other reviews because I wanted to have a clean slate. So if any of this is echoed elsewhere, I apologize.
The super-fast summary of what I like is this: the site file hierarchy, CSS controls, Terminal, web preview, and editing is all built right in. In other words, this is
true
Xcode of the web development world. There's probably utility for the shared editing, but most of my web projects involve one writer at a time.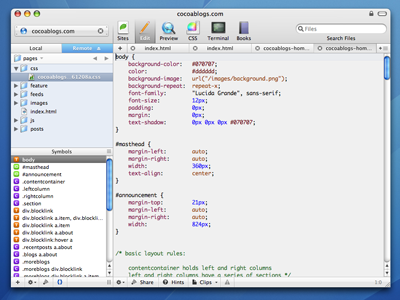 Built-in web reference? Genius. Visual regex? Finally. We've only been waiting for that for 25 years. The inline list of the remote file hierarchy is a huge productivity gain.
As for raw editing, TextMate is miles beyond Coda's built-in editor. There's absolutely no comparison. But that's to be expected because TextMate is entirely focused on editing text, and Coda casts a much wider net. For what it's worth, this is the same arrangement that I have for Cocoa projects. Xcode is the project-organizer, and I do 85% of my actual code writing in TextMate.
I think one of the major adjustments is going to be realizing that I have a much easier workflow available to me now, and catch myself if I try to wedge my previous workflow into this tool. Instead of bouncing between apps, I have to stop myself and say "wait, I can just click on this toolbar item."
Also, the design? Truly fantastic. An interesting balance between bold design decisions and the more established, traditional Mac OS X look. Winner.