Cocoa Sample Code: SimplePicture
In the ongoing quest to remember that not everyone is a Cocoa expert, I put together a small image viewing app which shows you a number of basic Cocoa techiques. Everyone, meet SimplePicture. SimplePicture — everyone.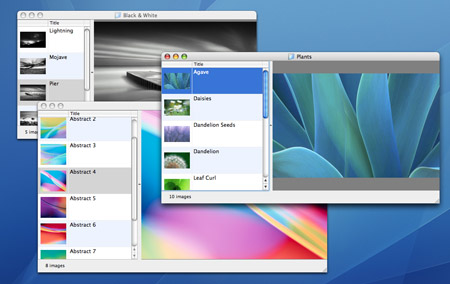 Download SimplePicture
Project for Xcode 2.4
SimplePicture is a small document-based Cocoa app which loads all of the images from a given folder and displays them as a list of thumbnails and file names in a table view. Clicking on an image will display it in the main image view.
Since this is a document-based app, you can open multiple viewer windows at a time, each displaying a different list of images.
What This Sample Covers
This sample code focuses on the following classes:
- NSDocument
- NSDocumentController
- NSImage
- NSImageView
- NSFileManager
The project involves these concepts:
- Cocoa Bindings
- Basic Categories
- Very basic threading
- Using images in a table view
- Basic memory management
- Subclassing built-in classes
- Using NSApplication delegate messages
- Drawing into an offscreen NSImage buffer
- Providing a custom NSDocumentController subclass
- Allowing the user to select a folder in NSOpenPanel
How it Works
Once the user chooses a folder to load images from using File → Open, SimplePicture uses NSFileManager to create an instance of NSDirectoryEnumerator. The enumerator allows us to
recursively
loop through all file names and subfolders in the folder.
We don't want to try to open each an every file blindly, so we need to figure out which files are likely to be images. To do this, we use a function from ImageIO called
CGImageSourceCopyTypeIdentifiers()
. This function returns an array of
UTI identifiers
for images formats ImageIO can handle.
For each file in the folder, we convert the file extension to a UTI indentifier using
UTTypeCreatePreferredIdentifierForTag()
. We compare that UTI identifier to the array of image types, and see if there's a match. If there is, create an NSImage from that file.
All of this is done in a separate thread so the UI stays reasonably responsive during load time. The spinner animates in the foreground while all the processing happens in the background.
Things That Make This Sample Code
The progress indicator is an
indeterminate
spinner, so the user has no idea how long the loading process will take. For folders with a lot of files, this could take a very long time.
SimplePicture does not put any limits on the size or number of images loaded, which could easily result in the application quitting unexepectedly if it runs out of resources. It could also get very slow as it runs out of real memory and starts swapping.
There's no concept of lazy loading, also known as "faulting." Ideally, if there are 30,000 images in the selected folder, we should load only certain portions of that list into memory at a time. Not only does this mean the app is more responsive, but it means we won't run out of memory.
Scalability is not a simple thing to address, which is why something like Core Data is so incredibly value to a Mac programmer. It's also a much more advanced topic than we're looking to tackle here.
That said, there are some simpler improvements we could make which would improve the experience and functionality. If you guys and girls find this interesting, maybe we can iterate on this a bit.