Cocoa Blogs RSS for Site Supporters
(
Update:
I think there's been some confusion. The feed does not "cost" $21. The feed is my way of doing something nice for the people that have generously donated to Cocoa Dev Central. The same information in the feed is available for free on the
web site
, which is exactly the same system that Daring Fireball uses for the Linked List. If anyone still feels strongly that this is unfair,
email me
and I'll try to understand your viewpoint better.)
When
Cocoa Blogs
launched, there was precisely one person on the planet that didn't immediately email me asking about an RSS feed, and that's just because he was busy blogging about MacHeist at the time. A feed has obvious value, but it's a bit more complicated than it may seem.
Update: Added some info on pricing.
My feeling was that if I launched the site and immediately made an RSS feed available, most people would just subscribe to the feed and be done with it. The site then just becomes a faceless link vending machine, which I don't think is very interesting.
The solution I decided on is something very similar to the Daring Fireball model: an authenticated feed. The plan is that you make a donation of at least $21 to Cocoa Dev Central, you'll get an account and can click your way to Cocoa happiness.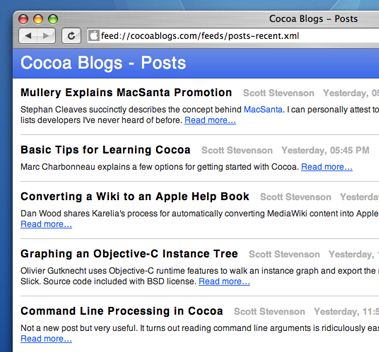 I think of this as a compromise. I'd prefer people come to the site and get the whole picture of the Cocoa community, but I understand that's not always efficient. So instead, you can make a donation to get direct access to the content, thereby supporting other Cocoa-related projects, including Theocacao. I think everyone wins.
I also think if I had launched the RSS feed alongside the site immediately, I'm not sure visitors would have necessarily "gotten" it. They'd look blankly at the site and wonder why I was asking for donations for a link vending machine.
As people have spent some time on the site, hopefully they've realized it's not just a laundry list of sites that mention "Cocoa" somewhere in their pages. It's a carefully-selected collection of people and individuals posts, designed to make it as easy as possible to find current and relevant Cocoa topics in just a few moments.
In other words, I don't just blindly grab links and post them. I do a ton of reading, finding things that are useful and accurate and do my best to sum up the relevance of each one in a few words.
Getting an Account
I've already created accounts for a small group of very special people, and I'm going to open it up to a few more folks now. If both of the following are true:
1. You've made a donation of at least $21 to Cocoa Dev Central
2. You'll willing to temporarily tolerate some beta-ish behavior (changed URLs, unavailability)
...
send me an email
to request an account. I might cap it off somewhere around fifty for the next several days, but that I think that limitation will quickly be eliminated. If I don't respond right away, that's probably why.
I also need to clarify that this is
not
purchasing a service. You're making a donation to Cocoa Dev Central which comes with this as a benefit at the moment. In other words, it's possible (though unlikely) that the feed may stop being updated at some point. The donation supports a number of different services. Just so that's clear.
Also, the feed has the added benefit of being a bit ahead of the site itself, at least for now. That is, items only show up on the home page once they've been added to the feed. That's not by design, just a side effect of the current system.