MacBook Air as Primary Machine
John Gruber
says
the MacBook Air is
"clearly designed as a secondary machine, not a main machine"
— mainly because of the chip used and the storage capacity. I think this is true for his purposes, but there's an entire category of users that could use this not just as their primary, but their
only
computer.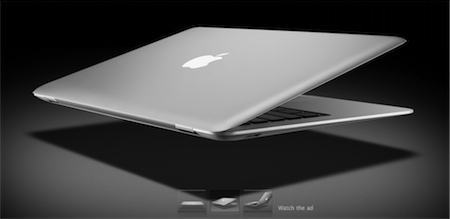 I have relatives — as I think most of us do — that mainly use their Macs for web, email, iTunes and iPhoto. All of those should run quite well on the MacBook Air. The only point that's left is installing software. Gruber says:
No optical drive. The new Remote Disc feature mitigates this limitation, at least for installing software. [...] But if you want to watch DVDs, you're out of luck.
You're only out of luck if you can't afford the $99 Superdrive. So it can certainly be a primary machine for a certain class of user.
The thing developers need to be aware of is that the previous low-end benchmark for modern hardware was around 2.0GHz. That's now 1.6GHz, albeit with twice as much built-in memory as the base MacBook. The hard drive is also slower (
pointed out by DaringFireball
), which is harder to account for.
What this means is that you need to tell your bosses and/or family members that you need a MacBook Air for testing purposes to assure a good experience for your software.
(
You're welcome.
)