CocoaHeads: Video for Core Animation Intro
The video from the
First Look at Core Animation
CocoaHeads talk for Feb 7 is now available as
part 1
and
part 2
on Google Video. Slides and projects are available for download as well.
Part 1 is the main presentation, including an introduction to basic Core Animation concepts, such as layers. The slides are available
here
(PDF).


First Look at Core Animation: 1 of 2

In Part 2 Lucas Newman demos several apps including
Wallball
, and talks about some of the details of the animation engine. Following that, I demo a few apps including
ArtGallery 1.0.1
.


First Look at Core Animation: 2 of 2

Both Lucas and I have some projects that we demoed which aren't available for download right now. For me, it's because there's a difference between code that's ready to demo, and code that's ready to distribute. I think you guys and gals would probably like everything that was demoed, so we'll see if we can make that happen.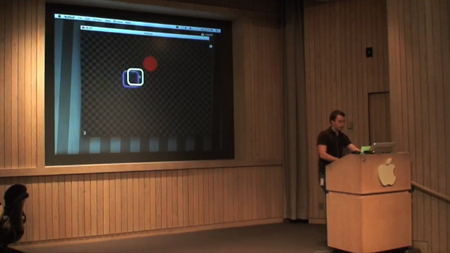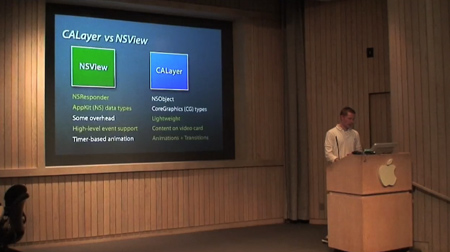 If you like a lot of pixels, Stephen Zyszkiewicz uploaded the
talk in HD format
, at a total of about 695MB. We don't really know what the demand is like for this, but it should support several thousand total downloads. Stephen really pushed for this. I wasn't sure it was worth the size, but it really did come out nice — you can easily see the slides on-screen.
(
For what it's worth, I don't think my explanation of NSResponder pointed out that the class is about much more than just the responder chain.
)
Thanks
You see me when the video first starts, but this is very much a team effort. Thanks to Lucas for showing up with fancy demos and additional explanations. I mentioned this in the talk, but Lucas spent time with Core Animation before I did, so I picked up a lot of tricks from him.
Michael Jurewitz — Apple's Developer Tools Evangelist — went above and beyond to make sure we got a room set up and ready to go, even driving back to campus at the last minute to save the day. Huge thanks to Michael.
Also, thanks to Joar Wingfors for tracking down video equipment for us and Stephen Zyszkiewicz for recording the video, processing all of it and posting it in record time — along with all of the other stuff he does for CocoaHeads.
A special thank-you to Erin K. For pointing out NSSpeechRecognizer to me.
Also check out the
CocoaHeads
site to subscribe to the calendar, mailing list and to look for (
or start
) other chapters.
Enjoy.