Developing for the iPhone
I read a lot of Mac developer blogs.
Everyone
wants to write applications for the iPhone. Why? First of all, because it's a new device, and developers are nothing if not relentlessly curious about new devices. Also, developers see an opportunity for the iPhone to take Cocoa apps where no Cocoa app has gone before.
The extreme portability of the device is the key. Even if the iPhone could not make a single phone call, Mac developers would be absolutely thrilled to use Cocoa to write apps for a handheld Mac. The keynote explicitly calls out the fact that the iPhone has a version of Mac OS X running on it.
Developer Considerations
Aside from the Apple and Cingular side of the world, there are some things that developers would have to consider for development:
1. The iPhone is not Intel-based. It appears to be ARM-based. For many newer apps, this is a not a major issue. In theory, it's up to the framework to figure out the lower level details. Still, many apps dig down into C for various reasons.
2. Since the iPhone is a phone, Apple has to cooperate with Cingular. It's hard to know all of the details of the relationship, but it's clear Cingular has some sort of say here where they would not a pure Mac handheld. For example, maybe Cingular isn't thrilled with the idea of a
VoIP app
.
3. Multi-touch changes the way you need to think about user interface. I'm surprised this hasn't gotten more attention. It's not like you plug in a mouse to the iPhone and go. Each of the demoed apps has been specifically tuned for a particular type of hand gesture. How difficult is this to develop for? I personally don't know.
All of that said, there's a lot of potential value here. At least some users want software from Mac developers on their phones, and developers want to provide it. It seems Apple would want to connect them at some point, but if that is ever going to happen, they'll want to stabilize the API first.
User Support Considerations
The only reason given by Apple for not supporting third-party apps was that "Cingular doesn't want to see their West Coast network go down." A lot of people pounced on this. The tricky thing about interviews is that it's very easy for quotes to be misinterpreted, particularly when translated to text.
For example, what does does it mean for the network to go down? If an app simply mucks up a lot of phones — in other words, people cannot make or receive calls — from Cingular's perspective, parts of their network
are
down. Not in a central location, but individual units out in the field. I think this is at least as likely of an explanation as anything.
There's no precedent for putting OS X on a handheld device, and selling it to iPod users. Mac OS X's frameworks provide a much bigger toolbox than what carriers are used to. Opening up for general development is not a simple decision, particularly because it involves Cingular (
they get the support calls
). And once you open it up, there's no putting the genie back in the bottle.
Apple is specifically going after customers that are not interested in the complexity of existing smart phones. Users can paint themselves into a corner very quickly. Anyone who provides tech support to relatives understands this. When you need to make a call, it's a much bigger deal than when you need to listen to a song or watch a video.
I'm not trying to sell anybody on this. Either you agree or not, but this really is a different game. I'd
love
to write software for the iPhone, but I realize there may be things I don't know about the device or Apple and Cingular's relationship. Maybe a compromise is to allow apps to be added via direct connection rather than over the air.
Either way, it's Apple's device so it's their decision to manage it in the way that they thinks makes the most sense. We can provide feedback as developers, of course.
OS X?
One mystery is why Apple calls the iPhone's software "OS X" instead of Mac OS X. It might be a way to make it clear that this is not Mac OS X, but a
version
of the
core
of Mac OS X. It could be that Apple is only supposed to promote Macs on Intel right now.
Perhaps Apple doesn't entirely trust Cingular to handle the Mac brand or would simply like to make the purchase less confrontational for Windows users. Or maybe there's just a preference for Apple branding in the spirit of Apple TV.
These are all just guesses. There's just not enough information to know for sure. Maybe it will become more clear in the future. Even if there's no iPhone SDK in the wings, it seems like this could be an interesting year for WWDC.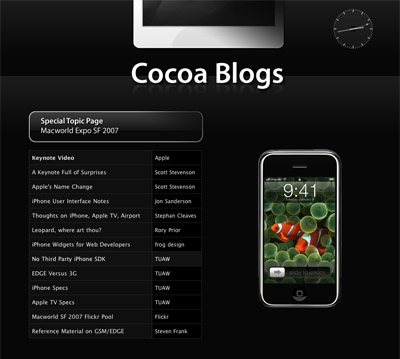 I'm tracking a lot of
these discussions
on a special page
Cocoa Blogs
. Updates were a bit thin for a few days, but I'm filling it in now.