Too Much Contrast on Web Pages
An email was sent to
Cocoa Dev Central
today which suggested that black-on-white text would be better than the current scheme of dark grey on light grey. This is a tricky issue, because it's partially dependent on hardware, partially dependent on biology, and at least partially influenced by print-based publishing.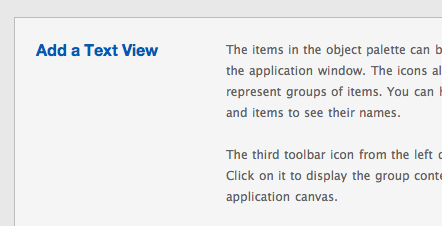 Most technical documentation is black-text-on-white, but I suspect this is mostly because printed documentation uses that scheme. The difference, though, is that when you're reading a web page, you're effectively staring at a light bulb. So you really can have too much contrast. I did a lot of experimenting before publishing the current design. It's not a decision I took lightly.
Theocacao, on the other hand,
does
use black text on a white background, though it's not generally the same kind of reading. With programming tutorials, you may stare at the same block of text for quite a while, at which point the high contrast can start to feel a bit intense. I still might tweak the Theocacao design at some point for this very reason.
However, there are two challenges. First, there are billions of monitors out there, each with their own unique behaviors. Contrast and brightness varies widely. Another factor is visual impairment. Some people simple cannot see low-contrast text well.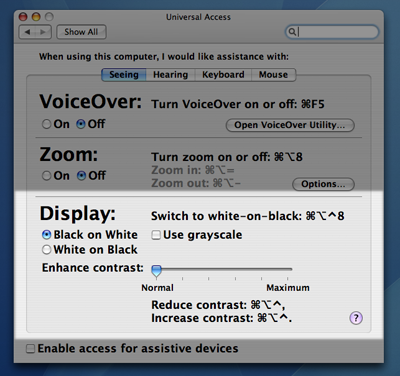 That said, Mac OS X does a pretty good job of addressing this with the Universal Access panel in System Preferences, so I'm not sure it's necessary to always implement this at the site level as well. In other words, if you have a visual impairment, it may not be completely unreasonable to think this feature may already be activated for other reasons (
though feel free to correct me on that
).
In any case, it's much harder to turn
down
contrast on a single web page than turn it up globally, and I think those who have an easier time reading lower contrast text (like me) are generally underserved. Ultimately, I just do the best I can to split the difference.
That said, I'm willing to add some JavaScript which allows readers to switch to black text on demand. I spent about a hour trying to implement this tonight and just couldn't cut my way through the DOM. If somebody has a JavaScript snippet that would let me adjust the color property of a specific CSS class selector, I'll look at adding it to the site.
Note that it must be a function which works on a
class
selector, not an id or tag. That's the wall I ran into trying to implement this. I just get getting null return values in the browser.