The Impact of MacHeist
It's been interesting tracking all the
MacHeist-related activity
on
Cocoa Blogs
. There are some very passionate people writing Mac software, and I'm not sure we'd see anything like this on the Windows side.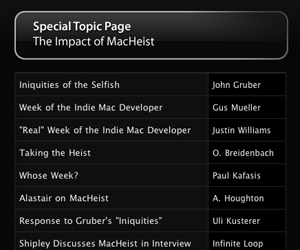 I think it's fair to say
Gus Mueller's post
was the spark that set off a bunch of small fires. I tried to read all of the comments on Gus's post to be more prepared but, frankly, there's just too much.
I think it's helpful for people like Gus and
John Gruber
to deconstruct the numbers so that developers are able to make more informed decisions, but the key is that it's ultimately a personal decision for each developer.
The Positive Effects
For all the controversy, there have been some hugely positive effects from this event. The single biggest may be the fact that it got many people comfortable with the idea of
paying
for indie software. This is a blind spot for a lot of developers, but believe me — making it socially acceptable to pay for good software helps everyone.
Justin Williams gave this a real psychological boost, I think, by talking about how MacHeist inspired him to
spend over $100
on Mac software. While his post was positioned in opposition to MacHeist, the event was actually the catalyst.
For the first time, there's been some real discussion about software pricing. This is a major area of confusion for new developers, and this pushed it into the foreground. There were pockets of discussion in the past, but nothing quite like this. It also kicked a number of semi-dormant developer blogs into high gear.
A huge amount of attention was brought to indie Mac software, even outside of the Mac inner circle. Much like
MyDreamApp
, the ongoing landmarks in the contest were publicized on sites like Digg. This exposes the non-Mac audience to the excitement of the platform.
Building an Ecosystem
I don't think I can possibly emphasize this last point enough. Whether you agree with the financials or not, this was certainly one of the biggest events in the history of Mac software.
The organizers of MacHeist are in touch with an under-appreciated type of user. One that will actively seek out and pay for software that isn't sitting on store shelves. These are
your customers
, if you want them. Smart folks will open their eyes to the lesson here that success is more than just writing functional code.
This isn't entirely separate from the "sizzle versus steak" phenomenon, either. If a potential customer decides they like the idea of a smoking window or Oscar the Grouch in their trash can, you can either try to convince them they're wrong and almost certainly fail, or you can make a mental note that perhaps there's something to be learned.
Upscale restaurants understand the value of a complete sensory experience. Do you need your napkin folded in a clever design to eat your food? Absolutely not, but it's one of a number of factors that build a mood. Although it goes against a hacker's grain, for most people, mood and environment is value too.
Anyone who spent some time on the MacHeist site or tried out any of the "missions" knows that the production values for MacHeist were at or above Apple levels. The concepts are clever, the graphics are stunning, and the voice acting is top-tier. This was no accidental success.
Will Shipley's Response
To me, the tide of opinion turned in Jacqui Cheng's
interview with Wil Shipley
of Delicious Monster.
Gus has strong opinions and I love him for that, but none of us who are bundled with MacHeist were forced to do so; we knew ahead of time what the price would be and how much we'd get, and we decided it was worth it for us.

I think events like this get a lot of publicity, so they bring in new customers that I wouldn't reach on my own. So I'm not really sabotaging my sales; I'm supplementing them.

As a single datapoint, in the two days since the bundle has gone on sale our direct sales (not part of the bundle) have actually gone up. So, I'm not crying.

[...] I don't mind getting new customers at a discount if I'm pretty sure they'll fall in love with my app and pay for upgrades later. And if people use it and don't fall in love with it; well, that didn't really hurt my any, did it?
Wil's voice on this matters a lot, because Delicious really walks the walk. Wil has taken on the role of a model Mac developer: both successful and enjoys what he does. His opinion on this issue is especially significant because he arguably has the most money to lose if the deal is unfair (or is at least nearly tied with Allan Odgaard).
Another interesting angle here is that Wil worked at Omni at a time when writing Objective-C code meant OpenStep. I suspect this gives him a broader perspective on quantities of licenses sold.
Ongoing Value
The basic point of contention for MacHeist is some thought the organizers earned a disproportionate amount of the revenue. John Gruber
compares
MacHeist's role to that of an agent, which is a comparison I understand. There are some similarities, but one key difference is that MacHeist doesn't have an ongoing role with the developers, extracting compensation from every sale. They have one shot at it.
By comparison, developers can potentially extract a lot of long-term value from the event. TextMate, in particular, gained almost immeasurable value by being the final
high-end
prize that everyone was shooting for. Just to have "$100,000" and "TextMate" in the same sentence has a
huge
psychological impact. It lends major street cred to the center of TextMate's pool of potential customers.
These developers — not to mention the Mac platform as a whole — also had their names associated with some deserving charities. This has immense benefits for both the charities and the developers. It also relieves some pressure of the whole thing coming off as too material.
Although I'm on board with what I read on Daring Fireball roughly 98% of the time, I don't completely agree with
this statement
:
First, there's something silly about calling these apps "hidden gems" in one paragraph, and then immediately proclaiming that the apps have been "showered with awards and accolades". I mean, come on, Delicious Library and TextMate are not hidden gems.
As far I can tell, they're hidden gems to everyone outside of the inner circle — which is practically everyone. Not just all of the people not using Macs, but Apple customers who aren't motivated to find interesting software on their own. Anything that is not in the Apple Retail Store is essentially invisible to this group, and even retail store presence is not a guarantee of success.
MacHeist has highlighted the exceptional quality of indie Mac software, which is often distributed exclusively online and developed by teams of 1 to 3 people. If that doesn't say something about Mac OS X's development tools, I don't know what does.
Any sort of activity at all — even some controversy — raises awareness about this market, and demonstrates that paying for the apps is not a weird thing to do. Ironically, I think everyone involved ultimately benefitted from the criticism (I'd vote for less harsh words in the future, though).
Don't Miss the Scenery
There's a brilliant
line of dialog
in
The Incredibles
when Hellen is speaking to Bob, trying to wake him up to the fact that they're in the middle of something amazing:
But this [...] is what's happening now, Bob. And you are missing this!
I realize this is just a cartoon (
a fine one, though
), and the context of the scene doesn't fit perfectly here, but I think the basic point applies. Whilst we're all busy talking about who's getting how much money, I think we're perhaps missing the bigger deal: that this is a
landmark
time for Mac developers.
At one time, the prevailing wisdom was that the Mac was over. And yet, the inconceivable has happened — Mac development has returned with great vigor, and is appealing to a new generation of users who don't have preconceptions about Microsoft's position. These folks have grown up on iPods.
Years from now, nobody is going to care about the minutiae of exactly how much each version of each product cost. And it's
just software
anyway. What we're going to remember is whether we had fun doing it or not. Appreciate the fact that people are excited about the work you're doing.
Believe me, I understand the challenges of making the finances work with something like this. But as a Mac developer, you have an amazing, once-in-a-lifetime opportunity impact the day-to-day lives of thousands of people around the world. Don't squander it on things that won't matter in the long run (and are likely to benefit all of us anyway). I believe there has never been a better time to be doing this.
Break down the fourth wall.
(
As of this writing, MacHeist has generated $133,212 for charity. I say we try to break $200,000 in the remaining 24 hours, and make some real news. It would be a heck of a way to close out the decade since Apple bought NeXT. If you're opposed to the whole idea, trying looking at it as shooting the moon.
)