The Wrong Way for the Right Reasons
It's sure a nice problem to have.
Too many
Mac developers trying out too many unconventional ideas because the barrier to entry has been lowered and the platform is so attractive. An application which uses particle effects for no other reason than
fun
? The nerve.
Apparently, being a Mac developer recently became very serious business, and making a respectable user interface is now very important. I missed the memo and have been blissfully thinking that people write Mac apps instead of Windows apps because it's more fun. We of course, all want software that handles a task then gets out of our way, but you can do that with style.
Anyway, it turns out we all have short memories.
Back in 2001, some thought Aqua was the end of the Mac. Reading
this thread
on Macintouch features countless people using all sorts of scientific words to prove that Aqua was bad. Why change the standard Mac UI if it works fine? Users would be hopelessly confused by color and transparency and would switch to Windows. Irony.
Jason Harris, who actually created the superfluous smoke effects for Disco, had
this to say
about the phenomenon:
The first group tells the damned kids to get off the first group's lawn, while the second group declaims the rigidity of the first group and says they will never turn into the first group. Dame Fashion, she is indeed a fickle bitch.
Indeed.
Venturing Out By Choice
Up until the last few years, a Mac app with a nonstandard user interface usually came about because the programmer didn't know much about the Mac. They didn't see any particular problem with using a push button as toggle switch.
These apps were often put together by somebody who worked in the broom closet of a company which hangs "Is this good for the company?" over the cube farms. Understandably, the nuances of Mac design is not a priority.
This
is type of situation the human interface guidelines were useful for, and arguably still are.
But this is different than
Delicious Library
,
Cha-Ching
or, in the more extreme case,
Disco
. These folks are Mac users who understand the Mac, and make a conscious decision to try something new. This is what is meant by "
do your own thing with gusto
," (as discussed by
John Gruber
at C4).
All three apps take fairly mundane tasks — cataloging physical books and DVDs, tracking money, burning data onto a piece of plastic — and make them more fun.
In an unrelated context, Delicious Library was criticized for not solving a real problem.
Wil Shipley's response
(on
Daniel Jalkut's blog
) was this:
Obviously, people enjoy Delicious Library, so it must fulfill some need for them. [...]

But even if it didn't do all this, who cares? Even if you consider DL essentially a game, well, the world needs more games. I'd rather make people smile than make them richer, honestly. And I've certainly switched a lot more people from PCs to Macs with Delicious Library (I get mail every day from converts) than I did in my ten years of vertical apps and consulting at Omni.
It turns out you're allowed to like things just because you like them.
Subjective Objectives
Now maybe you say it's not
actually
more fun to burn a disc with smoke is coming out of the window, or that seeing books displayed in a shelf metaphor isn't
actually
more satisfying than seeing them in a standard table view, but that's a personal judgement. You're free to not use either app.
Unlike previous entries in the nonstandard category, these apps are the result of thoughtful design (even if you disagree with the design decisions), and a lot of people actually
like
them. If Disco was unpopular or unquestionably unpleasant, there would be no need to say it because it would be obvious. But there's the
pirate
factor:
[Norrington]: No additional shot nor powder, a compass that doesn't point North... And I half expected it to be made of wood. You are, without doubt, the worst pirate I've ever heard of.

[Jack Sparrow]: But you have heard of me.
(
All sorts of layers to the pirate thing, isn't there? Not to mention the wood texture in Library.
)
Not everyone likes idea of a highly-stylized user interface being the model, but faced with at least some amount of community acceptance, some bloggers have rushed to the defense of more conventional interfaces. Nothing wrong with that, but this is not an easy case to make.
You see, it's not easy to
prove
that the UI for Disco or Delicious Library is bad because they're both quite easy to use, and the graphics clearly weren't made by novice designers. Some say the apps lack substance, but as long as Disco burns discs and Library shows you your collection, they've met their obligations. In fact, functionally, they quite often do things much better than the alternatives.
The question of whether the user interface is consistent with other Mac apps is open-ended as well. Using a push button as a toggle is clearly the wrong behavior. That's akin to spinning the volume control on a car radio and having the car accelerate. But
new
controls can have
new
behaviors — even if they have some similar qualities as other controls.
So we're left mainly with opinions, both for and against. The reality is that the blogging activity probably won't change many minds. It certainly won't sway the
developers
of the apps, and I just don't think it's going to convince many users, either. Either you find a smoking window entertaining or not.
Anybody remember this?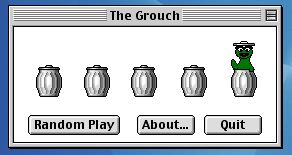 To change somebody's mind, you have to reveal a significant fact that they were not aware of. The fact that Disco uses transparent windows is not a secret, nor is the fact that Oscar popping out of the trash does nothing but waste precious 68030 CPU cycles. Disco's UI may evolve in the way Aqua did, or it may not.
The X11 Factor
Aside from the question of whether you like the graphics in some of these apps as they are, there's a question of complete interface chaos, as in the earlier days of Unix. I actually used SunOS and Solaris before Linux even really started to take off. The user experience was all over the map, but that has little resemblance to the here and now.
Nobody bought a Unix machine for the aesthetics or usability of the operating system, so it just wasn't a priority for apps to maintain that feel. There was no Apple setting the bar. Because of the success of iLife, Final Cut, and so on, third party developers now look to those titles as guidance for what users want.
The other major difference is that this new interface concepts are designed by people that specialize in it. You may not agree with the decisions, but they are made "with gusto," not apathy. This is in stark contrast to Unix developers in the past who would basically make educated guesses about user interface.
A Good Problem to Have
Nobody is going to show up with an invitation to tell you you're allowed to do things differently. The developers of these apps had an instinct about what would connect with people and followed it. In my opinion, almost all progress depends on that mindset.
My Dream App generated a tremendous amount of attention about Mac development, and it just wouldn't have worked if the contest focused on re-implementing conventional, proven ideas. My Dream Spreadsheet.
Given the choice between a safe, sterile, predictable Mac software environment, and one where people are so excited about the environment that they want to try new things, I'll take the latter. It's either going to be here or on another platform, so be happy that this is where people want to be.