Satisfying UI Design is Often Illogical
It looks like there are a lot of people writing about the UI changes in Leopard. Everyone has their own opinion, which is fine. However, I think there is one major misperception about successful UI design: some of the most significant elements are not easily measurable.
In computer software, we're used to looking at things as objective truths. Code can be reduced to specific, measurable results which can be tested. It's really tempting to transplant this to UI design — to apply studies and industry research with the expectation that it will deliver success.
But people are much more complex than compilers. There's a lot of human nature that doesn't not fit into nice, small boxes. If an application compiles and runs, it's an objective fact that it is able to do so. In UI design, you can apply current and credible research, run tests of every sort, and
still
end up with something that the average person doesn't enjoy using.
Usability tests and theories about interaction are
tools
. Very useful tools, but still just tools — not purposes onto themselves. The
real
goal is user satisfaction, and some of that is really illogical and messy.
The first time this really sank in for me was when I was reading Bruce Tognazzini's book,
Tog on Interface
. Honestly, I don't agree with a lot of what he says about Mac OS X and iPhone, but the book included
one magazine column
(from 1989) that got my attention:
We've done a cool $50 million of R & D on the Apple Human Interface. We discovered, among other things, two pertinent facts:

• Test subjects consistently report that keyboarding is faster than mousing.
• The stopwatch consistently proves mousing is faster than keyboarding.

This contradiction between user-experience and reality apparently forms the basis for many user/developers' belief that the keyboard is faster.

[...] While the keyboard users in this case feels as though they have gained two seconds over the mouse users, the opposite is really the case.
(For the record, Tog later comments he likes keyboard shortcuts.)
The basic idea I took away form this is
if you test, make sure you're testing the right thing.
UI success
may
come from efficiency, but it may also come from a longer-running or more awkward task (by scientific definition) which is
subjectively
more pleasant to perform.
Frankly, drag-and-drop is not all that efficient, and it's pretty clumsy. It requires carefully lining things up. Yet a lot of people prefer it because the experience feels much more direct, and is therefore more satisfying. That's my theory, anyway.
User Interface Has an Expiration Date
So if you're willing to at least temporarily believe user interface is primarily about user satisfaction, we need to talk about staleness.
If users see the same interface — same graphics, same interactions, same metaphors — for many years, the feeling of joy will begin to degrade. People experience this to varying degrees, but it seems to me that the typical mainstream user is more affected by this than the average software developer.
Change and fresh energy bring hope. I suspect this is why car manufacturers alter the bodies of their vehicles year after year. They know the contrast from the previous year sparks interest. Critics would say this is just marketing trickery, but no amount of labeling the phenomenon will change the reality of it. People seem to like it.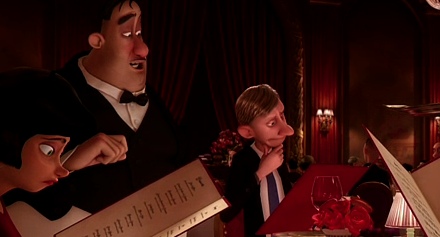 "What does the chef have that's new?"
If Leopard shipped and it
looked
essentially the same as Tiger, I think most non-programmers would pass it by. At first glance in screenshots and the back of the box, potential buyers would not see any signs of change, and therefore would not see any hope of new experiences which justify the cost. This would do a great disservice to the mountain of improvements in the underlying system.
You can say this is goofy, illogical, and silly, but it does seem to be the reality for mainstream users. They don't care if images are cached to the video card or if Leopard is Unix certified. They want to know if it
feels
different. They simply don't want to buy the same experience twice.
A Design Strategy
So we need a fresh experience. What's the criteria?
There are tens of millions of existing Mac users all over the world, and millions of new ones waiting in the wings. They need to an experience that is both brand new, and yet familiar. Stop short, and it will not spark the user's interest. Go too far, and you may alienate your user base. So the task is finding the balance.
This is additionally complicated by the fact that Leopard must look like it belongs in the same universe as the iPhone, iPod, the Apple Store, and a wide range of Mac applications. It's difficult (impossible?) to come up with something which satisfies all tastes, so compromises have to be made.
I think it's a mistake, though, to assume that the shipping designs are ever reached via apathy for a particular audience. Finding the perfect balance is hard, but some version ultimately must ship to keep things moving forward. The goal, I think, is maximum user satisfaction for the target audience. This may mean making changes that some audiences would disagree with (because not everyone experiences things in the same way), but I really doubt it's apathy.
Perspective
If history can be used as a benchmark, the UI discussion cycle we're currently in with Leopard is a natural part of the process. Any sort of change will bring disagreement from some users, but eventually it all settles down as people get used to it and various tweaks are made. That's been my experience, anyway.
"The world is often unkind to new talents — new creations. The new needs friends." (Anton Ego, Ratatouille)